Memorial Day 2014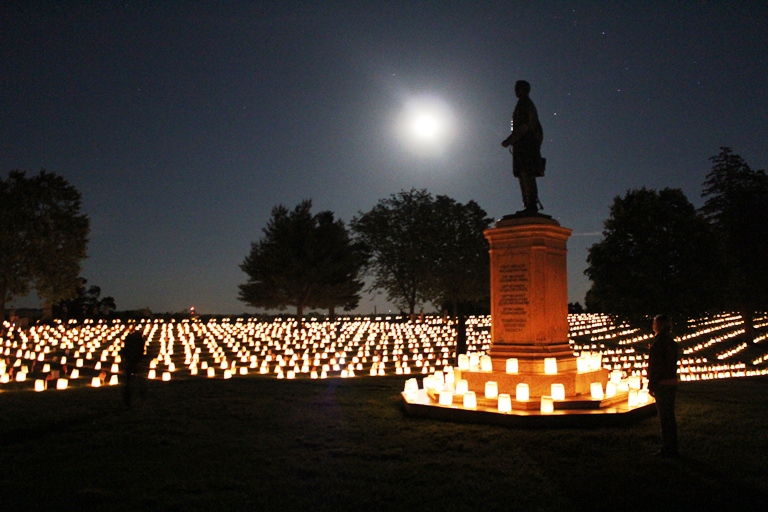 NPS Photo
May 24-26, 2014
May 24-26: Reverberations--Fredericksburg and Our Sister Communities
Fredericksburg and Spotsylvania National Military Park, in conjunction with the Richmond and Petersburg National Battlefield Parks, will commemorate the 1864 Overland Campaign and Memorial Day with a community outreach program. Each park will adopt "sister communities," North and South, and send historians to those communities to link their history to that of our 1864 battlefields.
For more information on the Reverberations programs, see our Reverberations homepage, or Fredericksburg and Spotsylvania National Military Park's Reverberations page.
May 24, 2014
Annual Fredericksburg National Cemetery Illumination
8:00 - 11:00 p.m., Fredericksburg National Cemetery A memorial tribute to the soldiers buried in the National Cemetery at Fredericksburg, many of whom gave their "last full measure of devotion" fighting around the Wilderness or Spotsylvania during the 1864 Overland Campaign. Join us for a guided walk through the cemetery, or stroll among the lighted graves on your own.
Due to limited parking, a free shuttle service will operate from the University of Mary Washington parking lot on the corner of William Street and Sunken Road. Handicapped parking will be available in the parking lot behind the Fredericksburg Battlefield Visitor Center, with another shuttle operating between that point and the cemetery. Please note that pets are not allowed in the cemetery.
May 26, 2014
Annual Memorial Day Program
11:00 a.m., Shiloh Baptist Church (Old Site), 801 Sophia St., Fredericksburg, 22401. Join us for a procession from the river front downtown to the Fredericksburg National Cemetery, following in the footsteps of long-ago Fredericksburg citizens--many of them former slaves--to honor the dead on Memorial Day.
Noon, Fredericksburg National Cemetery. The National Park Service will hold a ceremony honoring the our nation's fallen soldiers, featuring World War II veteran and renowned military historian Ed Bearss as the keynote speaker. The ceremony will last approximately 30 minutes.