FAQs and Safety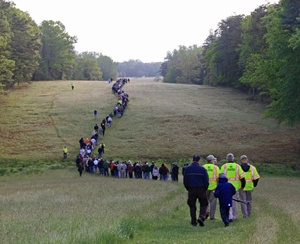 NPS Photo
Weather
May at the Wilderness and Spotsylvania Court House is mild but changeable, with the omnipresent possibility of rain and storms. Please dress appropriately. Unless otherwise noted, all NPS events are outdoors and will proceed so long as conditions are safe. Check our Facebook and Twitter pages for any program changes due to weather.
Pests
Ticks and mosquitoes are common in central Virginia, so we recommend using insect repellent and appropriate clothing for outdoor programs. Beware of snakes and other potentially dangerous creatures.
Bus Tours
All NPS-sponsored bus tours will last approximately 4 hours and cost $25 per person. Reserve your seat by calling the Fredericksburg Battlefield Bookstore at (540) 372-3034. Departure locations will be announced soon.
Water and Food
Food will not be available for purchase at any NPS-sponsored events. Visitors are encouraged to check our schedule and pack lunches, snacks, and water bottles with them. Water fountains are available at the Chancellorsville Battlefield Visitor Center but not on the battlefields at the Wilderness and Spotsylvania Court House. Some programs include long hikes, and some days do not have long breaks for meals. Please plan accordingly.
Hiking and Your Health
Several of our programs will include long hikes and are marked accordingly. Please be sure to eat sufficiently and drink plenty of water. Before taking a longer walk or more difficult hike, consider your own health. Our more strenuous programs are not designed for those with serious medical conditions.
Seating
No seating will be provided. For stationary programs, visitors are urged to bring easily-carried lawn chairs. Some walking tours cover a considerable distance. Please plan ahead.
Parking, Facilities, and Accessibility
Parking will generally be along park roads near program venues. All events will provide accessible parking. Most events and programs are fully accessible, though several walking/hiking tours take place over long distances with uneven and rough terrain. Call ahead if you have questions: (540) 786-2880.
Sign language interpreters will be present for the opening ceremony at 10 a.m. on May 3, and the culminating event at 7:30 p.m. on May 10. Interpreters are available for all other programs upon request. Please allow seven days' notice. Call (540) 371-0802 to make a request.
Roads and Trails
Please stay on designated trails and note special event signs on roadways and trails. Be aware of your surroundings, and watch for traffic when crossing streets.
Earthworks Preservation
The once-intimidating earth-and-wood fortifications that shaped the very nature of war on our battlefields have weathered over the years to become low, gentle mounds of earth. These earthwork remnants--rare remaining connections to the men who fought on our fields--snake across our battlefields, and your feet can damage these priceless resources. Please watch where you step, and do not walk on our earthworks!
Pets
Pets on leashes are allowed within Fredericksburg and Spotsylvania National Military Park, but park buildings and the National Cemetery are off-limits to all pets except service animals.