Exhibit renovations at Chancellorsville Battlefield Visitor Center

The exhibits and film at Chancellorsville Battlefield Visitor Center are closed due to renovation work. We expect to reopen with new exhibits in the spring of 2014. The bookstore and visitor center at Chancellorsville are open daily.
Chancellorsville Visitor Center Closed Beginning Dec. 23

The Chancellorsville Battlefield Visitor Center will be closed for renovation work beginning December 23 and lasting for up to 6 weeks. During this time, we strongly recommend that visitors begin at the Fredericksburg Battlefield Visitor Center.
Directions to Salem Church
Salem Church is located at 4054 Plank Road, Fredericksburg, Va. 22407 near the intersection of Route 3 and Salem Church Road in an area of shopping centers with heavy traffic. To reach Salem Church from Fredericksburg or I-95, take Route 3 west (exit 130). Proceed about one mile west of the interstate to a traffic light at the major intersection with Salem Church Road. Turn left (south) and proceed one block to the traffic light at General Semmes. Turn left and proceed one block to a "t" intersection. Turn left and proceed a short distance to the Salem Church parking lot. To view the park map. click here. You can enlarge the map to see more detail.
The grounds consist of the church, an one acre of ground. The church is open from 3:00-6:00 on weekends during the summer season. Click here for more information on visiting Salem Church.
Did You Know?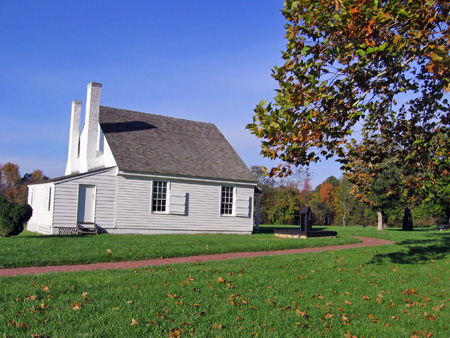 Stonewall Jackson was wounded next to the modern Chancellorsville Visitor Center on May 2, 1863, but died eight days later of pneumonia in what is now called the Stonewall Jackson Shrine. More...