Summer 2015 History at Sunset Schedule
We are excited to announce our schedule for our popular Friday night History at Sunset series. Unless otherwise noted, all programs begin at 7:00 p.m. and last approximately 90 minutes.
June 12: Starting the Show: A Walk to the Upper Pontoon Crossing. Start at Chatham, 120 Chatham Lane, 22405. Frank O'Reilly.
June 19: Hospitals and Forgotten Graves in the Wilderness: The Carpenter Farm. At the Izaak Walton League, 12400 Herndon Road, 22553. John Hennessy.
June 26: The Trail and Tale of Stonewall Jackson's Arm. Meet at Ellwood, 36380 Constitution Hwy, 22508. Eric Mink and Beth Parnicza.
July 3: Heroes and Homefolk: A Walk Though the City and Confederate Cemeteries. Head of Amelia Street, 22401. John Hennessy.
July 10: Mayhem and Missed Opportunities: Chancellorsville's Battle for the Bullock Road. Start at Chancellorsville Visitor Center, 9001 Plank Road, 22553. Frank O'Reilly and Beth Parnicza.
July 17: Unleash the Thunder: Artillery Marye's Heights. Fredericksburg Battlefield Visitor Center, 1013 Lafayette Blvd., 22401. Frank O'Reilly and Peter Maugle. Includes firing demonstration.
July 24: History Interactive: The Legacy of War. Meet at the Bloody Angle, Tour Stop 3, Spotsylvania Court House Battlefield. Beth Parnicza and John Hennessy.
July 31: Belle Plain: Gateway to War. Meet at Belle Plains Boat Club, 984 Belle Plains Road,22405. John Hennessy and Noel Harrison. Bring a lawn chair!
August 7: Life of a House: Chatham by Candlelight. NOTE SPECIAL TIME: 8 p.m. 120 Chatham Lane, 22405.
August 14: Companions in Battle: Animals of War. A Family-Friendly Campfire Program. NOTE SPECIAL TIME: 8 p.m. Prospect Hill, Tour Stop 6, end of South Lee Drive, Fredericksburg Battlefield. Bring a lawn chair!Peter Maugle.
For more information, contact the Fredericksburg Battlefield Visitor Center at (540) 373-6122.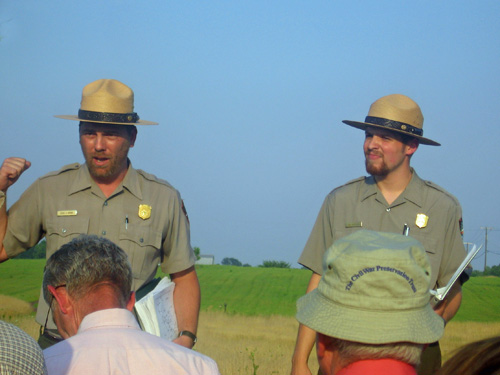 Mac Wyckoff