Exhibit renovations at Chancellorsville Battlefield Visitor Center

Exhibits and the film are currently unavailable at the Chancellorsville Battlefield Visitor Center while we prepare the building for new exhibits. The information desk, bookstore, and restrooms are available.
Exhibit renovations at Fredericksburg Battlefield Visitor Center

Exhibits are currently unavailable at the Fredericksburg Battlefield Visitor Center, as we remove old exhibits and prepare the building for new exhibits in June 2014. The information desk, bookstore, and restrooms are available.
Researching Your Civil War Ancestor
We sometimes receive requests like, "Tell me everything you know about my great, great grandfather John Smith." Not all of our inquiries are so vague, but the park gets many requests for information on ancestors.
Fredericksburg & Spotsylvania National Military Park does not maintain a record file for all of the soldiers who fought in the battles around Fredericksburg or served during the war. Keep in mind that the armies did not take roll call before going into battle. Their concerns focused on fighting the battle and staying alive rather than making research easy for people 140 years later. Therefore, there are no lists of the names of the soldiers who fought in any given battle of the war. Over three million men served in the Union and Confederate armies during the Civil War and your ancestor may be hidden in that vast list of names. Approximately 2,000 Confederate soldiers are listed in the records as John or Jonathan Smith with hundreds more listed as J. Smith. How are we do know which of these men named John Smith is your ancestor? Don't throw in the towel yet! There are many records and books that may help you and they are as close as your home computer or local library!
To start your search, you must know the name of the soldier. Keep in mind that your family may have called your great great grandfather Willie, but his military records use the name William or often times just the initial W. or the abbreviation Wm. Secondly, spelling errors are common in 19th century records. For example, a soldier with the last name of "Lytle" may have pronounced his name to the clerk so that it sounded like "Little" which is what the clerk wrote down. Especially if the soldier was illiterate, he may have never realized that a spelling error had occurred. Or perhaps the clerk did hear him correctly, but had bad handwriting so that when the records were typed the name "Lytle" looked like "Little" to a 20th century clerk.
The next thing you need to know is which side he served with. I have dealt with a surprising number of people who did not know which side their ancestor fought for and even some who knew he was a Confederate but didn't know whether that meant he served for the North or for the South!! It is hard enough to pin down which John Smith is your relative among 2,000 Confederate soldiers with that name, but if you add in maybe 10,000 Union soldiers with that name the task becomes impossible.
If you only know the name and side your ancestor fought for, the chances of finding his records are slim. If you also know what state he fought for the odds of success go way up unless he is among the many Smith's and Jones' of the world. They will go even higher if you know which unit he fought in.
A soldier in service during the Civil War was assigned to a company and a regiment. This may have been a regular regiment which was a unit of the then standing United States Army. More likely he was a member of a regiment raised by a state such as the 11th Virginia Volunteers or the 4th Maine Volunteer Infantry. African-American soldiers served in regiments ending with U.S.C.T. which stands for United States Colored Troops. These regiments also had Caucasian officers. If he was an artilleryman, he was assigned to a battery such as Battery B, 1st Pennsylvania Light Artillery or Battery A, 1st North Carolina Artillery, also called Manly's Battery. He may have been in a heavy artillery regiment or the navy.
Soon after the end of the conflict, many states such as Pennsylvania and Michigan compiled and published a list of the soldiers who served in state regiments. Only a few Southern states followed suit. (North Carolina has been working on a thorough roster of all its soldiers for many years and still has not completed their monumental work!)
Once you have a name, regiment, and/or state where your ancestor lived, check our webpage that contains portals to rosters and other information about Civil War soldiers. You will also find links to the state archives for the 29 states that had units that fought in the Fredericksburg area. Most state archives contain the service record for each soldier for each state as well as pension records, census records and other possible sources on your ancestor and his unit. While the archives don't have the information online that you are looking for, they do have their address, phone number and e-mail address so that you can visit or contact them.
If the state archives don't have what you are looking for, contact:
Military Service Branch (NNMS)
National Archives and Records Administration
7th and Pennsylvania Avenue, NW
Washington, DC 20408.
Other possible sources are often missed. Your local library or historical society or the one in your ancestors' home town may contain a gold mine of information such as rosters, family, county histories and cemetery records. College libraries usually have the war-time newspapers on microfilm as well as manuscript collections such as letters, diaries and reminiscences written by soldiers.
If you are uncertain of the regiment your ancestor served in, look for these books which may help you specify your ancestor's unit:
* The Roster of Union Soldiers, 1861-1865. A multi-volume set and counting, that lists all of the men who served in the Union armies by state and organization.
* The Roster of Confederate Soldiers, 1861-1865. This 16-volume set lists all of the individuals who served in the southern armies during the war.
Also check:
* The Civil War Soldiers and Sailors System sponsored by the National Park Service. The system features an on-line database of names of soldiers, sailors, and United States Colored Troops who served in the Civil War.
* Broadfoot Publishing Company offers a computer search service for a soldiers' name in the park bookstores. You can now visit the Broadfoot website to learn how to obtain information about soldiers for a fee.
* Cyndi's List of Genealogy Sites on the Internet. This is a very comprehensive site of links to genealogical websites around the world.
If you are looking for information on the battles your ancestor fought in, the after action reports for the entire war are contained in The War of the Rebellion: The Official Records of the Union and Confederate Armies. Most colleges as well as other large libraries should have these books.
Good luck with your search and have fun climbing through your family tree!

For further information, check out these titles:
* Bertram H. Groene, Tracing Your Civil War Ancestor, John F. Blair, Publisher, Winston Salem, 1973
* James Neagles, Confederate Research Sources, A Guide to Archive Collections, Ancestry Publishing, Salt Lake City, 1986
* Dr. Richard A. Sauers, How To Do Civil War Research, Combined Publishing, Conshohocken, PA, 2000
Did You Know?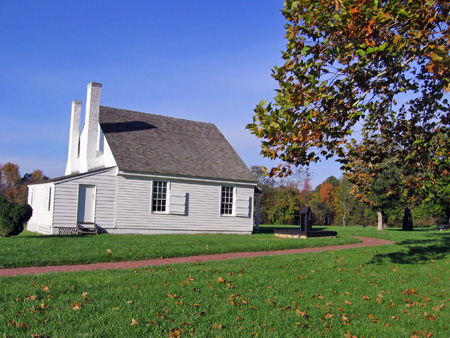 Stonewall Jackson was wounded next to the modern Chancellorsville Visitor Center on May 2, 1863, but died eight days later of pneumonia in what is now called the Stonewall Jackson Shrine. More...