Walks and Talks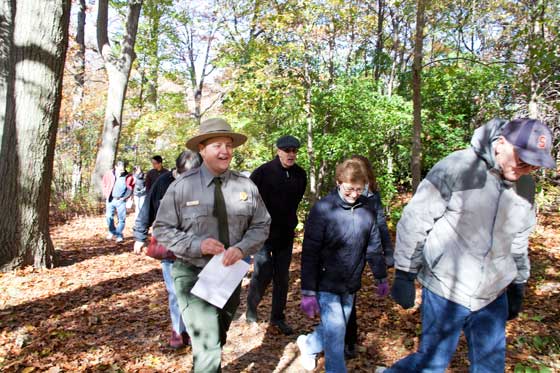 Matt Griffing
Join us this fall as we travel through the expansive works of Frederick Law Olmsted. We will enjoy his local designs throughout the Emerald Necklace, discuss his service during the Civil War, and explore the work of his apprentice.
All programs are free and open to the public. Please note that the Emerald Necklace walk requires reservations. For more information on any of the programs, please call 617-566-1689.

Sunday, October 5, 8:00 am to 2:00 pm
Ponds, Pastures, and Parkways: A Walk Along the Emerald Necklace
Come join us on a 5-mile walk from the marshes of the Back Bay Fens to the meadows and woodlands of Franklin Park. This six-hour tour will explore the diverse landscapes of Olmsted's masterpiece of park design.
Space is limited. To reserve your spot, please click here or call 617-566-1689 ext 221.

Saturday, October 18, 9:00 am to 10:30 am
Riverway: A Ribbon of Green
"Twenty years hence you will be looking back to Muddy River as I do Central Park," Frederick Law Olmsted told his partners in 1893. This 90-minute walk examines the thoughtful marriage of art and engineering to create a space that was both a "sanitary improvement" and a beautiful fresh water promenade.
Meets at the Longwood "T" stop, D branch of the Green Line, Chapel Street, Brookline.


Sunday, October 26, 10:00 am to 11:30 am
Arnold Arboretum: Nature that Inspires
On this gradual two mile walk, we will explore the role that artists played in early conservation efforts. Learn about how the design of the Arboretum helped people connect to nature in a public park, as much as early photographs and vivid writing enticed tourists to Yosemite.
Meet at the Hunnewell Building, 125 Arborway, Jamaica Plain.

Tuesday, October 28, 7:00 pm to 8:00 pm
Olmsted's War: Frederick Law Olmsted and the United States Sanitary Commission, 1861-63
This hour-long illustrated talk discusses a less-well-known and under-appreciated two years in Olmsted's life (1861-63) during which he served as Executive Secretary of the United States Sanitary Commission. This organization helped further the Union cause during the Civil War and contributed to the development of public health in the United States.
Hunneman Hall, Brookline Main Library, 361 Washington St. Brookline, MA 02445
Saturday, November 8, 10:00 am to 12:00 pm
Charles Eliot's Master Plan: Stony Brook Reservation
In his 1890 Waverly Oaks report, Charles Eliot suggested that Boston residents look beyond the city and into the suburbs for natural scenery to foster and preserve "an education in the love of beauty" and "a means of human enjoyment." Contemplate Eliot's efforts and ideas as we hike through Stony Brook Reservation. Offered in partnership with the Department of Conservation and Recreation.

Sunday, November 16, 1:00 pm to 2:30 pm
Franklin Park: From "A" to "Z"
Explore the portion of Franklin Park that designer Frederick Law Olmsted called the Ante-Park ("A"), which today is largely defined by the Franklin Park Zoo ("Z"). The walk will include stops at the Valley Gates, the Playstead Overlook, White Stadium, and the old Bear Dens. This tour includes an OPTIONAL extension into Franklin Park Zoo to explore the early Zoo designed by one-time Olmsted firm apprentice Arthur Schurliff.
Meets at "Giraffe" rear entrance to the Franklin Park Zoo, just off the Jewish War Veterans Drive (also known as Circuit Drive).
Did You Know?

Olmsted translates into "Place of the Elms". Some say his planting of these trees could be considered similar to the signature of an artist.