Walks and Talks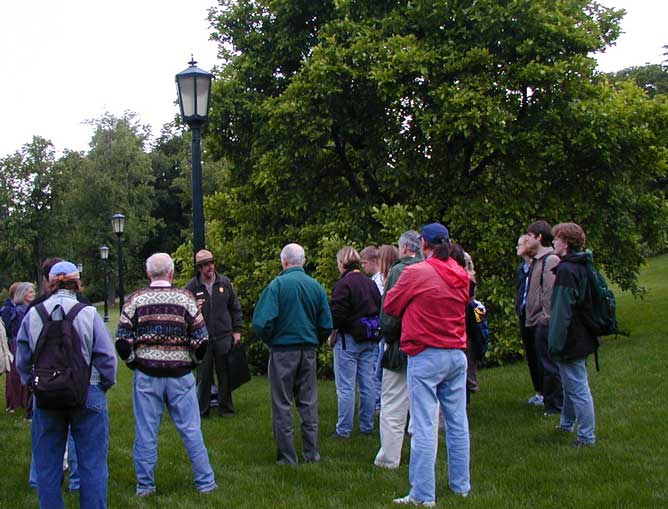 All programs are
free
and
open to the public
. Please note the one offering that requires advance registration. Looking forward to seeing you there!
Saturday, June 21, 6:00 pm to 8:00pm
A Short Walk on a Long Day: Olmsted's Brookline Neighborhood
Celebrate the summer solstice during this leisurely, two hour walk through Green Hill and Town Green, two historic neighborhood districts. Stops will include the Brookline Reservoir, First Parish Church and the Old Burying Ground on Walnut Street. Tour meets at the front entrance of Frederick Law Olmsted NHS.
Friday, June 27, 7:00pm to 8:30pm
Colorful Characters and Ornamental Plants at the Arnold Arboretum.
This one-mile walk will highlight decorative shrubs and iconic trees, while exploring Frederick Law Olmsted and Charles Sprague Sargent's indelible mark on local and national landscapes. Also highlighted will be their work to help preserve wilderness areas throughout the nation. Meets at the South Street Entrance, South Street, Jamaica Plain (walk from the Forest Hills MBTA Station).
Wednesday, July 2, 6:00 pm to 8:00 pm
Franklin Park: Country in the City
Join us as we return to Franklin Park, the last of Olmsted's classic urban parks, and one of his finest design achievements. Discover Olmsted's vision for the park on our walk through the landscapes of Scarboro Pond, Schoolmaster Hill and the Wilderness. Meets at the Resting Place Picnic Area, across from the Shattuck Hospital inside the Forest Hills Entrance (walk from the Forest Hills MBTA Station).
Thursday, July 10, 6:00 pm to 8:00 pm
Invasion of the Aliens! Exploring Invasive Plants in Olmsted Park
View the landscape through a different lens during this in-depth exploration of invasive plant species, while learning about the history of this lesser known segment of the Emerald Necklace. Meets at the Pond Avenue parking lot near Route 9/Boylston Street and behind the Brook House high-rise complex (walk from Brookline Village MBTA stop).
Friday, July 25, 6:00 pm to 8:00 pm
Revere Beach: Charles Eliot's Vision
Take a summer stroll along America's oldest public beach. Enjoy the sunshine and the waves as we discuss Charles Eliot's efforts and ideas on preserving special places like Revere Beach, as well as exploring the area's long history. Meets at the pavilion across from Kelly's Roast Beef, Revere Beach Boulevard (MBTA Wonderland Station, to Bus #441 to Oak Island Street., walk East to beach).
Thursday, August 7, 6:00 pm to 8:00 pm
Marine Park Walk: Going with the FLOw
Designing landscapes in tidal areas fascinated Olmsted, from the Back Bay Fens to the Chicago World's Fair. This two-hour walk will examine what Olmsted called "Pleasure Bay" and what he envisioned being the last segment of his "emerald necklace" of parks. This walk is offered in partnership with Boston Harbor Islands National Recreation Area. Meets at Sullivan's Castle Island Restaurant, located at the end of William Day Boulevard in Marine Park, South Boston. (MBTA Bus #9 to City Point. Available at multiple locations including MBTA Broadway Station).
Friday, August 29, 5:00pm to 7:00pm
Walking Along World's End
Explore the natural and cultural history of World's End in Hingham, Massachusetts. Join rangers from Olmsted NHS and Boston Harbor Islands National Recreation Area as they traverse the drumlins that make up World's End Reservation. Discover all the landscape has to offer (including invasive plants) and why this became an ideal location for Frederick Law Olmsted to design a residential community.
Reservations are required for this program
. Contact:
e-mail us
Did You Know?

Olmsted translates into "Place of the Elms". Some say his planting of these trees could be considered similar to the signature of an artist.