Walks and Talks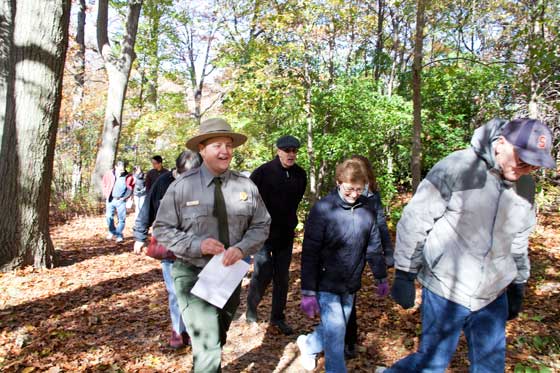 Matt Griffing
Thanks for joining us this fall as we traveled through the expansive works of Frederick Law Olmsted.
Winter programs, offered January through March, are coming soon. Until then, lace up some boots (or shoes that you don't mind getting muddy) and join Olmsted NHS, the Brookline Bird Club, and the Emerald Necklace Bird Club for the Leverett Pond-Olmsted Park Bird Walk. Meet on Sunday, December 7 at 9:00am at the Pond Ave. parking lot (behind Brook House condominiums). This walk is suitable for beginner or novice birders. Binoculars and a field guide are strongly encouraged.
All programs are free and open to the public. For more information on any of the programs, please call 617-566-1689.
Friends of Fairsted Winter Lecture
"Dwelling in Landscape"
Thursday, December 11, 2014 6:00pm Reception, 7:00pm Lecture
Wheelock College, 43 Hawes Street, Brookline, MA
Professor Daniel Bluestone, (Director,Preservation Studies Program, Boston University) will explore the changing theories and practices that have guided designers in building residences within the broader landscape and in shaping landscapes surrounding residences. He frames the changing theories of prospect and aspect as they guided ideas about the appropriate relationship between residence and site in constituting a domestic landscape, focused primarily on the United States from the late 18th century to the early 21st century.
Seating is limited and reservations are required: email friendsoffairsted@gmail.com.
Limited street parking is available. Public parking is not allowed in the Wheelock parking lot. Venue is easily accessible by MBTA Green Line "C" (Hawes Street) or "D" (Longwood) trains.