Walks and Talks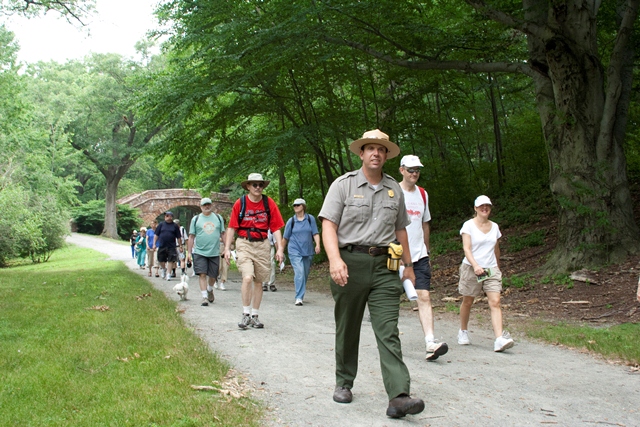 All tours are approximately TWO hours unless otherwise noted.
Sunday, April 28, 2013 at 10:30am
The Roots of the Arnold Arboretum
Contemplate the late 19th century shift away from the view that forests and wilderness were limitless, and how the ideas of the early pioneers of conservation in the United States, including Frederick Law Olmsted and Charles Sprague Sargent, are reflected within the Arboretum's "scientific pleasure ground."
Meet at the Arnold Arboretum's Main Gate located on the Arborway/Route 203.
Sunday, June 2, 2013 at 10:00 am (optional tour of Fenway Park at 12:30pm)
The Back Bay Fens: Vision and Revisions
Examine the multifaceted history of the Fens focusing on its transformation from "the foulest marsh and muddy flats to be found anywhere in Massachusetts" into an urban oasis of greenery. Explore how thoughtful art and engineering helped to create the first link in Frederick Law Olmsted's Emerald Necklace of parks. Following this tour, those interested can take a tour of Fenway Park, home of the Boston Red Sox, starting at 12:30 pm.
The walk and Fenway tour are by reservation; please call 617-566-1689 x216.
Sunday, June 9, 2013 at 10:00 am
Franklin Park: From "A" to "Z"
Explore Franklin Park from "A" to "Z" on a walk through the portion of Franklin Park that designer Frederick Law Olmsted called the Ante-Park ("A"), which today is largely defined by the Franklin Park Zoo ("Z"). The walk will include stops at the Valley Gate, the Playstead Overlook, White Stadium, and the old Bear Dens.
Meets at "Giraffe" rear entrance to the Franklin Park Zoo which is just off the Jewish War Veterans Highway

June 21, 2013 at 6:00pm
A Short Walk on a Long Day: Revere Beach
Take a summer solstice stroll along America's oldest public beach. Revere Beach is one of the many reservations preserved to foster "an education in the love of beauty", as envisioned by Charles Eliot, originator of Boston's metropolitan parks. Enjoy the sunshine and the waves, as we discuss Eliot's efforts and ideas as well as Revere Beach's long history.
Meets at the pavilion across from Kelly's Roast Beef.
This program is offered in partnership with the MA Department of Conservation and Recreation.
For more information on these programs please call (617) 566-1689 ext.221
Olmsted's Brookline Neighborhood Walks have been postponed until the summer.
We will post our summer walk schedule in late June. Keep an eye out!
Did You Know?

The Olmsted firm designed the US Capitol Grounds. The firm also worked on the Jefferson Memorial, White House, and the Mall.