Walks and Talks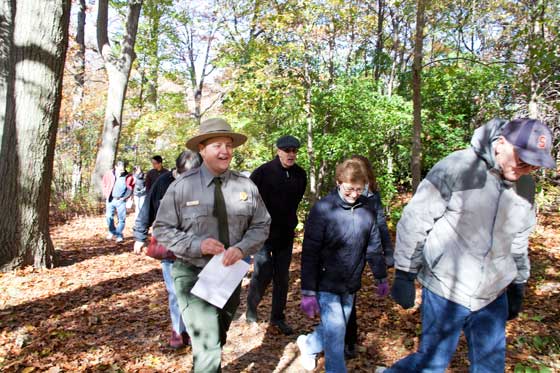 Matt Griffing
During the chilly months ahead, join Olmsted NHS for programs that will physically, intellectually, and creatively engage you with the many stories of Olmsted. All programs are free but please note that some programs that are by reservation.
If you have any questions, please call 617-566-1689.
Sunday, January 11th 1 pm to 4 pm
Opening the Olmsted Vault
Join us for a special afternoon peek into the Olmsted vault and gain some insight into our surrounding community of Brookline. This program highlights the expansive body of design work of the Olmsted firm in Brookline through a self-guided exploration of the Historic Design Office. While exploring, take time to view a variety of original materials that reflect the firm's work in the community, from parks to private estates, school campuses and beyond. No other single town in the United States has more Olmsted projects within its borders.
Open house begins at 1pm, at Frederick Law Olmsted National Historic Site, 99 Warren Street, Brookline. No reservations needed.
Saturday, January 24th 1 pm
Black and White Landscapes: Photography Workshop
See Fairsted through a new lens, while borrowing from John Charles Olmsted's historic one! Explore the historic grounds and capture the beauty of our wintery landscape in black and white photos during this 90-minute session. JCO's photography highlighted the beauty of the landscape in all four seasons, just as the Olmsteds intended. Participants will learn some photography basics, so bring your cameras, questions and jackets (we will be venturing outside for part of this workshop).
To make a reservation, click here.
Saturday, February 14th 10 am
The Nature of America
How does wilderness shape society and how does society impact wilderness? Learn about conservationists versus preservationists, and the ongoing struggles to define, protect, and develop wilderness during this hour long illustrated program.
To make a reservation, click here.
Saturday, February 28th 2pm
On the Road with Olmsted: His Southern Travels
Although best known as "America's Parkmaker", Frederick Law Olmsted first gained notoriety in the 1850's as a writer on Southern society. This program will explore Olmsted's evolving views on slavery through the individual reading of short, targeted excerpts from his book, "The Cotton Kingdom." As a small group, participants will gather at Olmsted's Brookline home to discuss their thoughts and reactions. Readings will be sent to registrants via email (in PDF form) prior to the program. This program will be approximately 90 minutes.
To make a reservation, click here.
Saturday, March 14th 10am
Arnold Arboretum: A Winter Landscape
Did you know that there's life brimming beneath the snow pack where animals make their homes or that certain trees need a prolonged period of cold weather to bloom in the spring? Learn about these wonders of nature and more on leisurely two mile SNOWSHOE walk through the Arboretum. Meets at Hunnewell Visitor Center, 125 Arborway, Jamaica Plain. Dress warmly and bring snowshoes.
To make a reservation, click here.
Sunday, March 29th 2pm
Franklin Park: A "Quiet Season" Jaunt
Early spring is typically a quiet time at Franklin Park. The leaves, the songbirds, the golfers, the festival-goers are still weeks away from returning in large numbers. It is a special time to take in Franklin Park, its landscape, and the healing effects that designer Frederick Law Olmsted sought to foster in his urban park creations. This time of year also offers the chance to observe features that are less visible when the park is fully leafed out. Join us for a 90-minute stroll to celebrate spring's arrival in Boston.
To make a reservation, click here.