National Park Week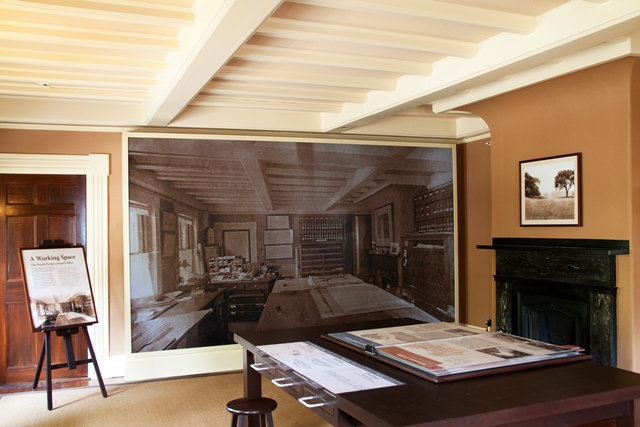 Photo by Matt Griffing
NEW EXHIBITS!

Designing the Future: The Olmsteds and the American Landscape
"I have all my life been considering distant effects and always sacrificing immediate success and applause to that of the future" - Frederick Law Olmsted, Sr.
National Park Week
will see the public opening of
NEW EXHIBITS
at Frederick Law Olmsted NHS. Come to Fairsted for a whole new experience
April 19th through April 27th
. Visitors can guide themselves through the Olmsted story and engage in a variety of activities that include: interactive touch-screens, hands-on exhibits and a new video on the life of Frederick Law Olmsted. All the exhibits are located in the Olmsted family's home which recently went through a detailed restoration of its historic wallpaper and finishes.
The week kicks off with fee-free days at National Park sites across the country. Lucky for you, Olmsted NHS is fee-free year round!
This year's theme,
Go Wild!!
, encourages visitors to discover all that the National Park Service has to offer them; from diverse wildlife to iconic landscapes (like Olmsted's here at Fairsted), the 401 NPS units each has a unique story waiting for you!
Friday, April 18
"Arnold Arboretum: Where the Wild Things Are"
7:30pm-9pm
Explore the wilder creatures of the Arboretum, while discovering the work Frederick Law Olmsted and horticulturist Charles Sprague Sargent; not only co-designers of our nation's first public Arboretum, but also advocates for the preservation scenic and wilderness areas around the country. Culminating at the top of Bussey Hill, participants will be able to observe constellations in the night sky through a telescope. Co-sponsored by Boston Harbor Islands National Recreation Area and Arnold Arboretum of Harvard University. Meets in front of the Hunnewell Building, located just inside the Main Gate, 125 The Arborway/Route 203.
Saturday, April 19
Exhibit viewing hours
9:30am to 4pm
Design office tours
10am, 11am, 1pm, 2pm, 3pm
Sunday, April 20

*
Exhibit viewing hours
12pm to 4pm
Design office tours
1pm, 2pm and 3pm
Tuesday, April 22

*
Earth Day
Exhibit viewing hours
12pm to 7pm
"Olmsteds Go Wild!!: The Olmsteds and the American Conservation Movement"
7pm
Although known as the designers of some of our nation's most beloved landscapes, the Olmsteds also realized that they sometimes needed to let nature be the final artist. This 45-minute talk will explore the ethic of conservation developed by the Olmsted firm, from Olmsted Sr's work to help preserve the Yosemite Valley, to his son Olmsted Jr's recognition as one "...the greatest of Parks men in the world."
Wednesday, April 23
Exhibit viewing hours
12pm to 4pm
Thursday, April 24
Exhibit viewing hours
12pm to 4pm
Friday, April 25
Arbor Day
Exhibit viewing hours
9:30pm to 4pm
Design office tours
10am, 11am, 1pm, 2pm and 3pm
Saturday, April 26
Frederick Law Olmsted's Birthday
One-year anniversary of the new Olmsted elm
Exhibit viewing hours
9:30am to 4pm
Design office tours
10am, 11am, 1pm, 2pm and 3pm
National Junior Ranger Day
10am to 4pm
Calling all aspiring Park Rangers! Celebrate Olmsted's personal landscape with your own artistic rendition; (all supplies will be provided). Take a tour of the rambling design studios and learn the design secrets of the Olmsted's to gain insight into how they created thousands of landscapes across the country, from Central Park in New York to Boston's own Emerald Necklace.
Looking to make it an all day event? Join our friends at John Fitzgerald Kennedy National Historic Site and Longfellow House- Washington's Headquarters National Historic Site for their family-friendly activities. If you complete all three, there will be a special prize!
Sunday, April 27

*
"Jamaica Pond: Genius of the Place"
10am to 12pm
Examine the natural and cultural history of the pond and surrounding parkland. The tour will also cover the park's design by renowned landscape architect Frederick Law Olmsted on the day following the 192nd anniversary of Olmsted's birth. Meets at the Jamaica Pond Boathouse, located at the intersection of Pond Street and the Jamaicaway.
Exhibit viewing hours
12pm to 4pm
Design office tours
1pm, 2pm and 3pm
*Please note, special exhibit hours are offered on

April 20

, 22, and 27 in honor of National Park Week. Please visit our website for the most up to date schedule.