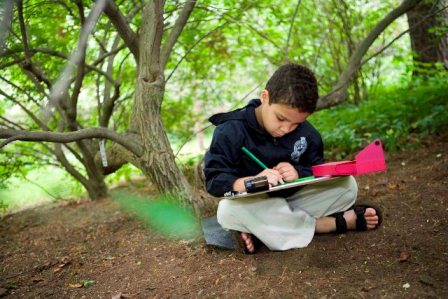 Photo by Joel Veak. Courtesy of the National Park Service, Olmsted NHS.

Exciting new opportunities for teens!
Experience our site and history in unique ways that allow you to gain experience, expand your knowledge, express your creativity, and build your resume. Read more about what we have to offer.
Thanks for joining us for Junior Ranger Day 2014!
We happily celebrated 12 new Olmsted NHS Junior Rangers on April 26, including three victors in our Historic Homes Junior Ranger Challenge! These intrepid rangers completed three Junior Ranger programs in one day!
Is your family visiting Olmsted NHS? Ask about ways to earn your Junior Ranger badge on a historic design office tour or in an exploration of the landscape.
Kids! Learn about National Parks by becoming a WebRanger. As a WebRanger, you will travel to parks all over the country through the world wide web. Your job is to have fun while learning about YOUR National Parks and the things YOU can do to care for them. Solve mysteries and puzzles, play games, take part in stories, and gather secret words. Become a WebRanger! Click here to begin your adventure.