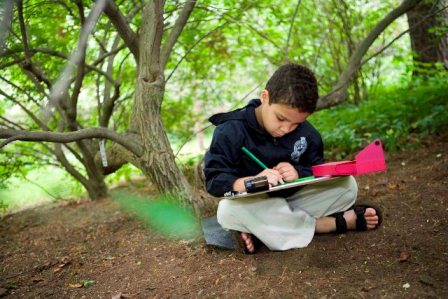 Photo by Joel Veak. Courtesy of the National Park Service, Olmsted NHS.

Exciting new opportunities for teens!
Experience our site and history in unique ways that allow you to gain experience, expand your knowledge, express your creativity, and build your resume. Read more about what we have to offer.
Check out our newly designed Junior Ranger book!
Earn your Junior Ranger badge by taking a tour and completing the activities marked with an elm leaf. For additional fun, explore the Olmsteds' home and landscape to discover even more about landscape architecture, the family, and their business.
Visit us this summer for special Junior Ranger activities on Sunday afternoons, including sun printing, drawing in the landscape, and creating collages.
Activities vary and are weather dependent. Family friendly activities begin Sunday, July 9 and run until our Founders' Day celebration on Sunday, August 23.
Is your family visiting Olmsted NHS? Ask about ways to earn your Junior Ranger badge on a historic design office tour or in an exploration of the landscape.
Kids! Learn about National Parks by becoming a WebRanger. As a WebRanger, you will travel to parks all over the country through the world wide web. Your job is to have fun while learning about YOUR National Parks and the things YOU can do to care for them. Solve mysteries and puzzles, play games, take part in stories, and gather secret words. Become a WebRanger! Click here to begin your adventure.