Albert Gallatin, a Genevan at the Heart of the American Dream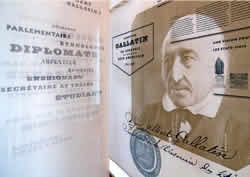 Library of Geneva
Albert Gallatin, a Genevan at the Heart of the American Dream
, is a special exhibit by the Library of Geneva, celebrating the 250th anniversary of Gallatin's birth. The exhibit is on display at Friendship Hill NHS through spring of 2013.
The exhibit traces incredible journey of Albert Gallatin who left Geneva in 1780, to pursue his dreams in America. This multifaceted man mad his mark in the politics, diplomacy, economics, and science in America. Unpublished documents from the Bibliothèque de Genève (BGE) origninal Gallatin artifacts are displayed in Gallatins home at Friendship Hill.
Did You Know?

Albert Gallatin took a job teaching French at Harvard. Later, while surveying for a partner who had been one of his students, he bought the land he called Friendship Hill.