Albert Gallatin, a Genevan at the Heart of the American Dream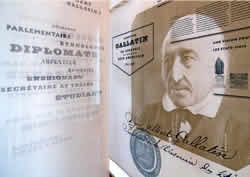 Library of Geneva
Albert Gallatin, a Genevan at the Heart of the American Dream
, is a special exhibit by the Library of Geneva, celebrating the 250th anniversary of Gallatin's birth. The exhibit is on display at Friendship Hill NHS through spring of 2013.
The exhibit traces incredible journey of Albert Gallatin who left Geneva in 1780, to pursue his dreams in America. This multifaceted man mad his mark in the politics, diplomacy, economics, and science in America. Unpublished documents from the Bibliothèque de Genève (BGE) origninal Gallatin artifacts are displayed in Gallatins home at Friendship Hill.
Did You Know?

Albert Gallatin remained active after retiring from the government. In 1831, at age seventy, he was named president of the new National Bank of New York. He served on the council that established New York University in 1831. He founded the American Ethnological Society in 1842, at age eighty-one.