Elevator Temporarily Unavailable

Elevator access to second floor and restrooms is unavailable until further notice. The restrooms near the parking area remain open. The second floor of the Gallatin House is available by stairs. (Effective Aug. 9, 2013)
Welcome Teachers!
This is where you and your students start learning about Albert Gallatin and Friendship Hill.
Included in the Curriculum Materials is a three-part teacher's guide and a packet for homeschool students.
In the spring and fall the park offers Guided Field Trips for school groups and guided house tours.
Please feel free to contact us at 724-725-9190 or email us.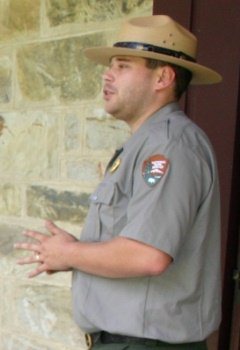 Features
Teacher's Guide

This teacher's guide provides background information on Gallatin, pre-visit lessons and post-visit activities.

Read More

Field Trip: Secretary of Treasury, Board Game

The park ranger guides the students as they play the board game deciding how to spend the federal money as they try to be Secretary of Treasury.

Read More

Field Trip: Whiskey Rebellion

The park ranger guides the students as they role play the Whiskey Rebellion Trails of 1795. The students learn about the causes of the rebellion.

Read More