Inauguration 2013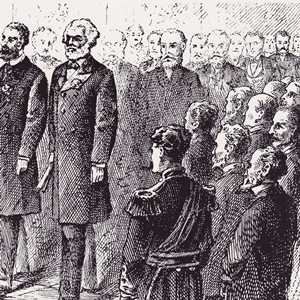 We are open during Inauguration 2013!
Hours:
Tours: 9:00 a.m. - 4:00 p.m.
Site: 9:00 a.m. - 4:30 p.m.

Tours:
From Thursday, January 17th through Monday, January 21 all access to Mr. Douglass's house will be on a first come, first served basis. You do not need a ticket to visit the house and we will not be accepting reservations for those days. On arrival, please check in at the Visitor Center for more information.
Grounds:
The grounds, Visitor Center, and park film will be open and unticketed from 9:00 a.m. to 4:30 p.m.

Questions?
Call us: 202-426-5961
Did You Know?

Family was a big part of Frederick Douglass' life at Cedar Hill. By the 1890s his four surviving children (a fifth had died as a baby) all lived in Washington, D.C. Between them they eventually gave Douglass twenty one grand kids, filling the halls of Cedar Hill with noise and activity. Douglass can be seen here with his grandson Joseph, who went on to become a famous violinist.