Teacher Group Visits
The Frederick Douglass National Historic Site loves to host teachers and educators. We can tailor our programs to meet your needs. Please contact
Nate Johnson
to arrange a visit.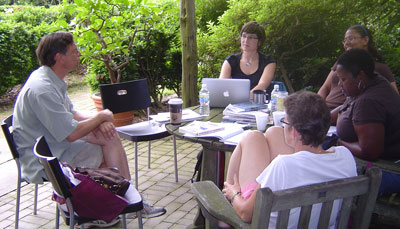 Civil War Washington Teacher Fellows Program
Spend a week exploring the Civil War through the lens of the Nation's Capital. Civil War Washington Teacher Fellows spend a day apiece at Ford's Theatre, Tudor Place, President Lincoln's Cottage, and the Frederick Douglass National Historic Site. At each site, teacher fellows focus on both the content and different techniques (oratory, performance, primary sources, etc.) for incorporating that knowledge in the classroom. It is an amazing week with some of the best teachers from around the country.
Come away from your week in Washington familiar with an array of virtual tours, the oratory skills to get your students on their feet performing speeches by Lincoln and Douglass. You will feel comfortable taking students on content-driven experiential learning adventures and excited about using classroom drama to help historic characters come alive!
Session I: local teachers, June 21-26, 2015
Session II: national teachers, July 19-24, 2015
Visit Ford's Theatre's website to apply and to find more information. Applications are due April 3, 2015.