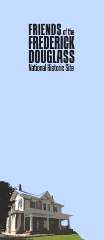 Friends of Frederick Douglass
The National Park Service can't care for Frederick Douglass's house and memory alone. We need you. There is no other way we will be able to make sure Douglass's house and ideas live on.
The Friends of the Frederick Douglass National Historic Site is dedicated to preserving and sharing the legacy of Frederick Douglass.
For more information:
---
Eastern National Books
Visit our Bookstore located in the Visitor Center. Books on Frederick Douglass, Booker T. Washington, W. E.B. Dubois, the Underground Railroad, crafts, cook books, and National Park Service information for all ages.

Or, for a limited selection visit our Eastern National partners online.