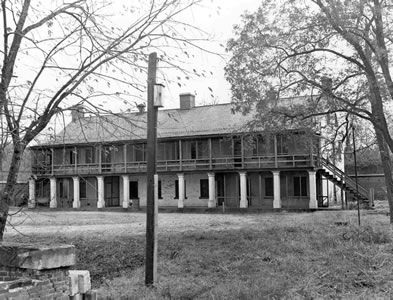 REMAINING HALF IS A WARD
On November 12, 1827, Company F, 1st U. S. Artillery arrived at Fort Washington. Major Milo Mason, the new post commander, was unsure of the status of buildings outside the fort and wrote Colonel Roger Jones, the Adjutant General on November 13 requesting information about the buildings. In return, he was directed "to take charge of all buildings at this post not assigned as Quarters." He was not aware of any government buildings on private property. On January 23, 1828, Lieutenant Webb, the post Adjutant wrote to Brigadier General Jessup that there were only two buildings at the post. One was used as Officer Quarters and "...half the other by the company, and the remaining half is a ward for a hospital..."
In 1828, the hospital was located in the barracks for a short period. It is possible that this arrangement was only temporary until the status of other buildings could be determined. Most likely, the hospital returned to the building now referred to as the Sergeant's Quarters. Ordnance Sergeant Joseph Cameron may have moved into the hospital building when there was no garrison at the post.
The hospital situation at Fort Washington can be considered typical of army posts. In 1835, an Army Medical Board examined all the military forts and stations and found only three well-built army hospitals. They also reported that most post hospital accommodations were completely unsuitable for their intended purpose.
Fort Washington's garrison was withdrawn in 1841, and workmen and engineers occupied the post for the next seven years. On September 30, 1845, $6,000.00 was requested to construct a hospital but apparently the funding was not approved and may have resulted in Sergeant Cameron's quarters being converted to a hospital when the garrisoned returned.
80 YARDS FROM THE WATER
The next reference to a hospital is in the Surgeon General's 1856 Statistical Report on the Sickness and Mortality in the Army of the U.S. Assistant Surgeon Lewis A. Edwards' report of 1852 describes Fort Washington's hospital. "...The commanding officer's quarters are situated on the same ridge as the fort, about 600 feet north, a considerable depression intervening, in which the hospital is located about equidistant from the two points above mentioned, and 80 yards from the river..." The hospital contained at least three rooms: a kitchen; a ward for the sick; and a pharmacy or storeroom. This is probably the same building identified as a hospital in 1820. The building was apparently in use on July 19, 1853, when Captain John B. Scott wrote: "...At present the stewards and cooks are obliged to sleep in the same ward with the sick. No hospital has ever been built at this post..." However, the post cemetery, at the bottom of the hill suggest that a hospital was nearby.