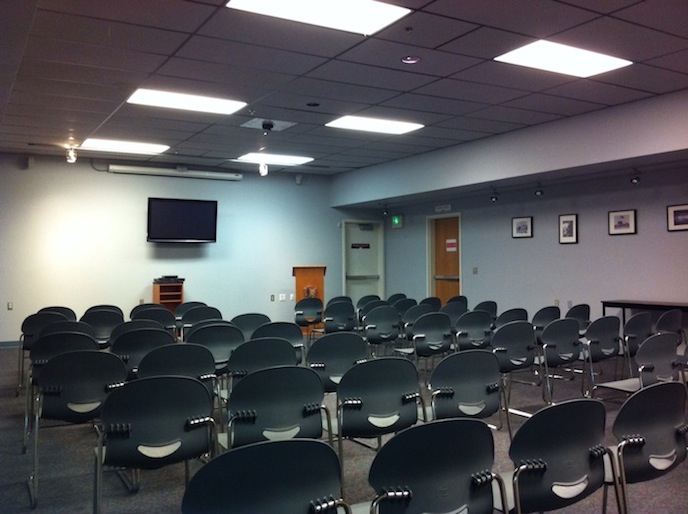 NPS
Reservation Information

The Tex Rankin Theater is located within the Main Hangar of the Pearson Air Museum. The space seats 80 people theater-style or 30 people classroom-style (around tables), and works well for meetings, classes, conferences, and small-size receptions.
Venue Specific Information
Address

Pearson Air Museum, 1115 E. Fifth Street, Vancouver, WA, 98661, inside the Main Hangar
Capacity

The theater holds a maximum of 80 people theater-style, or 30 people classroom style with tables. A partition wall to an adjoining room can be opened to provide space for an additional 35 people theater-style, or a larger classroom.
Accessibility

The venue is wheelchair and stroller accessible. Accessible restrooms are available in the Main Hangar of the Pearson Air Museum.
Equipment

The room includes chairs, 5ft tables, video screen, and widescreen HDTV. The theater is available on an as-is basis; no additional equipment is provided.
Parking

Pearson Air Museum has 42 parking spaces available for use in the main parking area. Parking in designated public parking areas of Fifth Street is available as well; however street parking may also be used by the public and cannot be guaranteed. No parking is permitted on any grassy area adjacent to the Pearson Air Museum.
Reservation Information

To apply for a permit to reserve the Tex Rankin Theater for your activity, please complete an application form and return it to the park, along with a $100 application fee (see below). This form can be picked up in person at the visitor information desk at Pearson Air Museum, the Visitor Center or the reconstructed stockade, or you can download it here. It can be submitted to the park at these places, mailed to the park at the address listed on the form, or email us.
Reservations for the exclusive use of the Tex Rankin Theater can be made up to six months in advance. Each reservation allows a four-hour block of time (including all setup, breakdown, and clean-up). To streamline scheduling, the park has established three four-hour blocks of time listed below, but other hours may also be available. Multiple four-hour blocks may also be reserved.
Morning (9:00 a.m. - 1:00 p.m.)
Afternoon (1:00 p.m. - 5:00 p.m.)
After Hours (5:00 p.m. - 9:00 p.m.)
Application Fee



A $100 application processing fee is due with the application. This fee is non-refundable, and may be paid by check (made payable to National Park Service) or cashiers check only. Payment of the Application Fee does not guarantee that the National Park Service will issue a permit. Complex applications and proposed activities may require more extensive review; in these cases, a permittee may be charged an additional application fee.
Management Costs
Management may be incurred by the park through expanding park hours of operation, monitoring, supporting, cleaning up, or restoring a resource after event use. They are recovered at a rate of $50/hour per employee.
General Guidelines
Your Special Use Permit does not grant access to Pearson Air Museum. The Tex Rankin Theater is located inside Pearson Air Museum with permitted use limited to the Tex Rankin Theater. For increased privacy, it is recommended that you schedule your event early or after hours.

A permit may not be issued if it unreasonably interferes with interpretive services, visitor services, or other program activities or causes damage to the park resource.

Due to the archeological significance of the site, ground disturbance, including the use of stakes, is prohibited.

Permits issued during the After Hours block will incur additional costs associated with cost recovery for staff monitoring during the setup, breakdown, and cleanup of the activity. Payment of these costs is due one week prior to the event and any additional costs incurred are due two weeks after the event.
Free-standing directional signs related to the event are permitted and are to be removed immediately after the event. Affixing directional signage to government property is prohibited. Any posted signs will be immediately removed. Please coordinate with park staff on the placement of event signs.

The sale of all merchandise --including but not limited to T-shirts, clothing, and arts and crafts--and vending of food/beverages on park land is prohibited.

Alcohol may be consumed on-site, but may not be sold. If you anticipate serving alcohol at your event, please let the National Park Service staff know during the permitting process.

Prior to and immediately following the event, National Park Service, and permittee representatives will complete a Facility and Equipment Checklist indicating the condition of the Tex Rankin Theater.

All decorations and trash must be removed from the park within the permitted time period. Should park staff find it necessary to perform additional cleanup or repair damage upon your departure, you will be billed for these costs.

Additional documents may be required including a Certificate of Insurance, a performance bond, and/or a permit from the City of Vancouver. The National Park Service staff member facilitating your request will discuss these with you as necessary, depending on the size, scope, and type of activity being proposed.