Information on Pearson Air Museum

Information about Fort Vancouver National Historic Site assuming direct operational responsibility for Pearson Air Museum. More »
Permits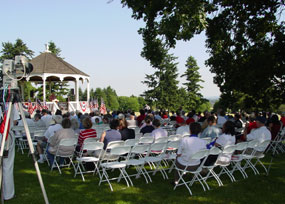 NPS Photo
The units of Fort Vancouver National Historic Site and the Vancouver National Historic Reserve are home to unique and beautiful landscapes and settings that are ideal venues for a variety of special activities such as cultural programs, picnics, wedding ceremonies, and film and photography projects.
Special events and activities held on the grounds of Fort Vancouver NHS - including the McLoughlin House Unit in Oregon City, Oregon - require a Special Use Permit (SUP), issued after the National Park Service determines that the activities involved will not impair park values and resources.
Special events (such as public spectator attractions, entertainment, ceremonies, and encampments) and commercial filming (digital or film recording of a visual image or sound recording by a person, business, or other entity for a market audience, such as for a documentary, television or feature film, advertisement, or similar project) may be permitted by the park when, in the determination of park staff, they meet established guidelines, policies, and regulations.
Park staff are happy to assist you with the permit process and to guide you in planning your event or activity logistics so that they comply with these guidelines, policies, guidelines and regulations.
There are a number of structures to choose from within this expansive National Park. You will have the option of reserving the following structures:
The Picnic Shelter: located right next to the Visitor's Center, with easy access to the restrooms and our play structure. This space provides a perfect venue for family gatherings, birthdays and many other special events. The structure is covered and holds approximately 70 people. All other structures are available during regular park hours of operation; however the Picnic shelter is only available after closing hours.
The Great Meadow: located on the parade grounds, this expansive meadow makes a lovely place for a wedding reception, family reunion or any other large celebration! Be sure to bring your own umbrella or easy-up because there is no covering to block you and your celebration from the elements!
The Bandstand: located on the Parade Ground, this bandstand provides some shelter from the elements and works as a great staging area for your event!
The Heritage Oak: perhaps one of the largest and oldest trees on the grounds of Fort Vancouver National Park, this heritage oak is located in between the Visitor's Center and the reconstructed Fort site. Make your reservation to bask under the splendor of this majestically aging oak!
Pearson Air Museum and its seven acre grounds include historic structures and archaeological sites tied to the U.S. Army, military aviation, and the colonial Hudson's Bay Company fur trading post. Known for its internationally-significant World War I-era Spruce Production Division Mill Site and an airfield that has seen a number of historic flights that landed in this very place; the museum celebrates this rich aviation history. If you are interested in holding your event at Pearson, please begin by reviewing our General Guideline for Special Events.

Now that you have reviewed which structures are available, please review the Permit Application Process and call (360) 816-6230 to set the date for your reservation or click on the Special Events or Filming links in the title bar above for more information.


Did You Know?

Did you know that the Pacific Northwest's first hospital, school, orchard, library, grist mill, saw mill, shipyard, and dairy were all established at the Hudson's Bay Company's Fort Vancouver? Learn more about this by visiting Fort Vancouver National Historic Site! More...