Vistor Center Temporarily Relocates to Pearson Air Museum on Sep 15, 2014

The Visitor Center operation will temporarily relocate to Pearson Air Museum, beginning on Monday, September 15, 2014, while the visitor center is rehabilitated. More »
The McLoughlin House Site Will Close at 2:00 pm This Saturday, October 18, 2014.

The McLoughlin House unit of Fort Vancouver National Historic Site will close early this coming Saturday, October 18, to prepare for a community partnership event. The McLoughlin House will be open from 10:00 am to 2:00 pm this Saturday.
Lantern Tour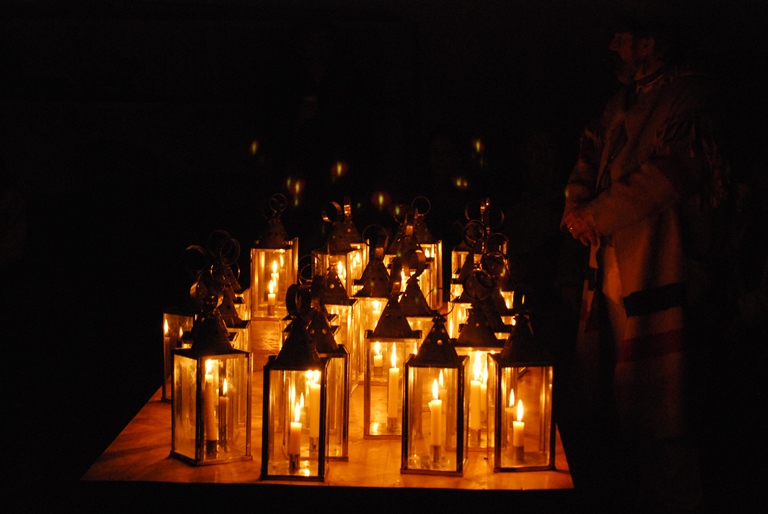 NPS Photo
Reserve your spot on a lantern-lit journey with National Park Service staff and Volunteers-in-Parks and explore the history of Fort Vancouver under the British Hudson's Bay Company in the 1840s.
Peek into the fort's buildings by lantern light and experience historical vignettes with costumed living history interpreters, including graduates of the park's Youth Volunteer Programs.
Finish off your evening by sharing a cup of hot cider with the National Park Service team!
Reservations required; call (360) 816-6232 to reserve a spot!
2014-2015 Schedule for Lantern Tours at Fort Vancouver
Tours will be offered at 7:00 pm on the following Saturday evenings:
October 11, 2014 SOLD OUT!
October 25, 2014
November 8, 2014
November 22, 2014
December 6, 2014
December 20, 2014
January 10, 2015
January 24, 2015
February 14, 2015
February 28, 2015
Where: Fort Vancouver National Historic Site, 1001 East Fifth Street, Vancouver WA 98661
Who: Adults and children over 10 years of age.
When: Tours start promptly at 7:00 pm. Gates open at 6:30 pm. Tours last 1 hour and 30 minutes.
How Much: $10 for ages 16 and over, $7 for all children under 15 years old.
Other Information
Due to program length, Lantern Tours are not recommended for children under 10 years old.
Gates open at 6:30 pm. Please arrive no later than 6:45 pm to allow time to park, walk to the fort, pay, and get oriented.
The tour last approximately 1 hour and 30 minutes.
Parking is at the fort parking lot, located at 1001 East Fifth St., Vancouver, WA 98661
Please follow the lantern-lit path only.
Check in at the Contact Station.
Please dress for the weather, as you will be outside frequently, walking between buildings.
Only attendees 10 years and older may carry a lantern.
Did You Know?
Did you know that a number of U.S. Army generals served at Fort Vancouver NHS's Vancouver Barracks early in their careers? The list includes Generals Oliver O. Howard, George C. Marshall, Ulysses S. Grant, George B. McClellan, Phillip Sheridan, William T. Sherman, Omar Bradley and George Pickett. More...