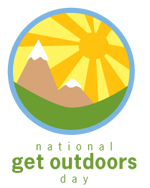 On Saturday, June 14, 2014, these diverse partners will offer opportunities for American families to experience traditional and non-traditional types of outdoor activities throughout the United States -- and right here in Vancouver, Washington!
Prime goals of the day are reaching currently underserved populations and first-time visitors to public lands, and reconnecting our youth to the great outdoors.
For more information, visit the National Get Outdoors Day webpage by clicking here.