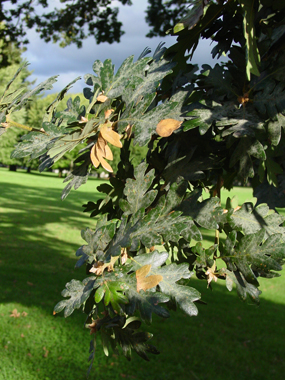 Greg Shine
Today, Douglas fir and Oregon oak trees scattered across the manicured lawn of the parade ground retain the general character of the historic period.
Several of the trees on the Parade Ground date from early in Vancouver Barracks's history (1861-1947).
Clumps of Oregon oaks that are spread across the Vancouver Barracks portion of the park (many of which are within the park's legislated boundary) were also common in this area during the HBC and Vancouver Barracks periods as part of the oak savannah transition zone between the conifer forest and the plain.
Preliminary research indicates other trees in the Vancouver Barracks portions of the park may have historic integrity, for example, the large deciduous trees, including oaks, located along the southwest side of the park in the Reserve.
These trees were planted in 1883 along both sides of McLoughlin Boulevard (now known as Fort Vancouver Way), a Vancouver Barracks depot road leading from East Fifth Street to the riverfront, which dated from the early 1850s.
Significant vegetation located outside the park boundaries includes the bigleaf maple (Acer macrophyllum) trees on both sides of Evergreen Boulevard that were planted in front of Officer's Row in the 1880s. These trees create a strong visual edge to the north side of the parade ground and the park's northern boundary.