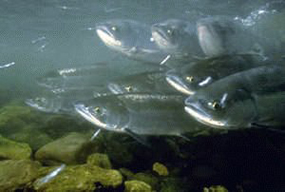 NOAA Photo
Threatened, Endangered, Rare Species, and Species of Concern
Consultation with the U.S. Fish and Wildlife Service and the Washington Natural Heritage Program inventory has disclosed no threatened or endangered species within the park, though the bald eagle (Haliaeetus leucocephalus) and the bull trout (Salvelinus confluentus) may occur in the vicinity of the park.
A proposed species of sea-run coastal cutthroat trout (Oncorhynchus clarki clarki) may occur in the vicinity of the park.
The National Marine Fisheries Service's website identifies certain stocks of the following anadromous salmon species migrating through the Columbia River adjacent to the park as species of concern. They are chinook salmon (Oncorhynchus tshawytscha) listed as threatened, coho salmon (Oncorhynchus kisutch) listed as a candidate species, chum salmon (Oncorhynchus keta) listed as threatened, steelhead (Oncorhynchus mykiss) listed as threatened, sea-run cutthroat trout (Oncorhynchus clarki clarki) proposed threatened.
In addition, the sockeye salmon (Oncorhynchus nerka), native to the upper Salmon River in Idaho, are listed as endangered on the Snake River and must migrate through the Columbia River to reach its spawning areas.
For listed mammals, the NMFS website shows the Steller sea-lion (Eumetopias jubatus) as threatened.
The following are species of concern that have been documented in Clark County. These species or their habitat could be located on or near the park: Cascade frog (Rana cascadae), Larch Mountain salamander (Plethodon larselli), Long-eared myotis (Myotis evotis), Long-legged myotis (Myotis volans), Northern goshawk (Accipiter gentilis), Northwestern pond turtle (Clemmys marmorata marmorata), Olive-sided flycatcher (Contopus cooperi), Pacific lamprey (Lampetra tridentata), Pacific Townsend's big-eared bat (Corynorhinus townsendii townsendii), Peregrine falcon (Falco peregrinus), River lamprey (Lampetra ayresi), Slender-billed, white breasted nuthatch (Sitta carolinensis aculeata), Tailed frog (Ascaphus truei), Van Dyke's salamander (Plethodon vandykei), Western toad (Bufo boreas).
The American peregrine falcon (Falco peregrinus anatum) is a likely visitor to the area. Two candidate mollusks, the California floater (Anodonta californiensis) and the Columbia River pebble snail (Fluminicola [=Lithoglyphus] columbiana), may also occur along the shoreline of the park boundary. The USFWS does not list any critical habitat.