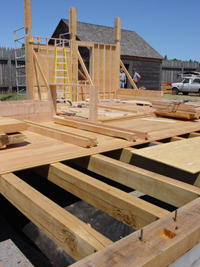 NPS Photo
Guided by our General Management Plan (GMP) and subsequent planning documents which have grown out of the GMP, the park has completed or is in the construction or planning phase of many projects that will enhance the visitor experience at our site.
In addition to entrance fees at the reconstructed fort, the park relies on our annual budget from Congress, National Park Service special project funds, and donations to operate our site and to meet our goals of improved visitor services.
From reconstructing buildings within the fort to cataloguing archaeological collections, from rebuilding the deck and promenade at the waterfront to repairing the Bandstand, and from irrigating the Parade Ground to repairing the historic fountain at the McLoughlin House, we strive to preserve the resources entrusted to our care utilizing the most efficient and environmentally friendly methods and materials.
All of these projects are funded by the American taxpayer, with assistance from generous donations. The projects have been chosen to maximize our ability to tell the stories associated with Fort Vancouver NHS and Vancouver National Historic Reserve as outlined in our planning documents.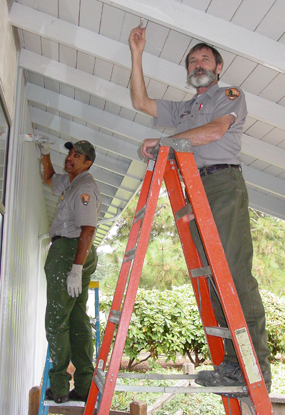 NPS Photo
2006 Projects
In 2006, your tax dollars are helping fund many special projects within the park.
These projects include the repainting of the Visitor Center and Picnic Shelter, the repair of the Bandstand, the construction of an accessible trail connecting the fort to Fifth Street, an accessible sidewalk on the north side of Fifth Street, the placement of a new efficient irrigation and sprinkler system in the Garden, additional items for the Period Clothing Program, the cataloguing of hundreds of items from archaeological excavations, and a fire protection system for the Chief Factor's House.
Please plan a visit to the park and see your dollars at work!