Centennial Initiative 2016
The National Park Service turns 100 on August 25, 2016, and we invite you to join the celebration! The Centennial will kick off a second century of stewardship of America's national parks and engaging communities through recreation, conservation, and historic preservation programs.
Join us at Fort Vancouver National Historic Site to discover this national park and programs in your own backyard!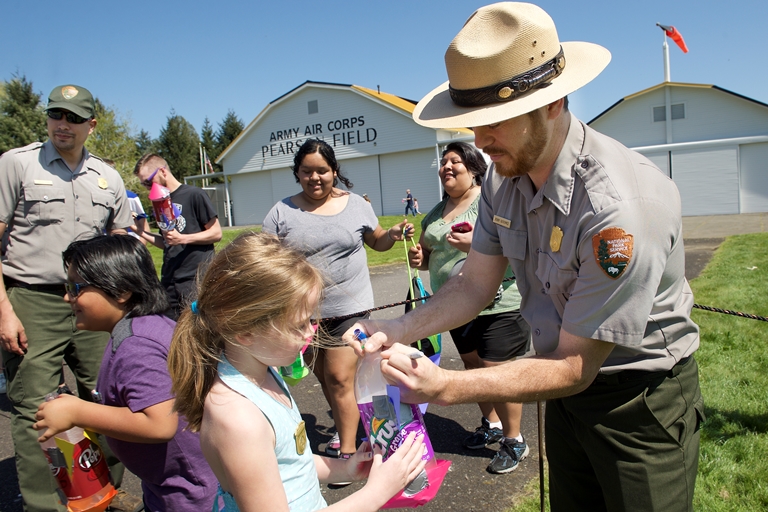 NPS PHOTO / TROY WAYRYNEN
Public Events
Junior Ranger Day, which takes place every year during National Park Week in April, invites kids of all ages to take part in hands-on activities and earn their Junior Ranger badge! To learn about Junior Ranger Day and National Park Week in April 2015, click here.
The annual Children's Cultural Parade brings third graders from Vancouver Public Schools and Evergreen Public Schools to Fort Vancouver NHS to share their research projects on their family's heritage (or a culture in which they are interested), and celebrate our diverse community. In 2015, the Children's Cultural Parade will take place on May 29.
Fort Vancouver NHS hosts one of the nation's largest National Get Outdoors Day celebrations. Get Outdoors Day brings together representatives from public lands agencies and local businesses and nonprofits to celebrate healthy, active outdoor fun. This event coincides with our annual Brigade Encampment, which recreates the return of fur brigades to the Hudson's Bay Company's Fort Vancouver. Living History Volunteers share historic crafts, dances, music, and outdoor skills at this fun family event. In 2015, National Get Outdoors Day and the Brigade Encampment will take place on June 13.
Founder's Day celebrates the anniversary of the National Park Service. In 2015, the agency will be turning 99 years old on August 25. On Saturday, August 22, join us for a day of fun centered around your local national park and the upcoming Centennial!
Campfires & Candlelight is our largest living history event of the year. This community event brings together hundreds of costumed National Park Service volunteers and local reenactment groups for a candlelit evening of history and culture. In 2015, Campfires & Candlelight will take place on September 12.
On September 18, 2015, Fort Vancouver NHS will partner with the U.S. Citizenship and Immigration Services to host the 6th annual naturalization ceremony at the park as part of National Constitution Day & Citizenship Day.
At Christmas at Fort Vancouver, visitors celebrate the holiday season 1840s-style! Caroling, wreath-making, and cultural and historic weapons demonstrations bring this event to life. In 2015, Christmas at Fort Vancouver will take place on December 12.
Interpretive Programs & Exhibits
Our popular Kids Dig! program introduces kids aged 8-12 to the fascinating world of archaeology. In this program, kids excavate a site with trowels, screen dirt, measure and map their finds, and discover the historical secrets that lie below our feet. Kids also learn about the importance of protecting archaeological sites for future generations. Learn more here.
This year brings big changes to Pearson Air Museum, and we mean BIG! The National Park Service recently purchased a rare DeHavilland-4 Liberty aircraft, and it is undergoing restoration by Century Aviation of Wenatchee, Washington. The Liberty was the only American-made aircraft flown into combat with American crews during World War I; later they were repurposed for observation, training, and barnstorming. The 321st Observation Squadron had DH-4s at Pearson Field, including one flown by the squadron's commanding officer. Also, a full scale replica Curtiss Pusher will soon be under construction on the main museum floor, a project undertaken by our team of dedicated museum volunteers. Famed local pilot Silas Christofferson piloted a Curtiss Pusher from the Multnomah Hotel in Portland, Oregon, to Pearson Field in 1912, wowing onlookers.
A new exhibit will also be opening at Pearson Air Museum later in 2015, highlighting the Chkalov Transpolar Flight of 1937. The exhibit will recount this landmark flight from Moscow, Russia, to Pearson Field within the context of aviation achievements and political reactions.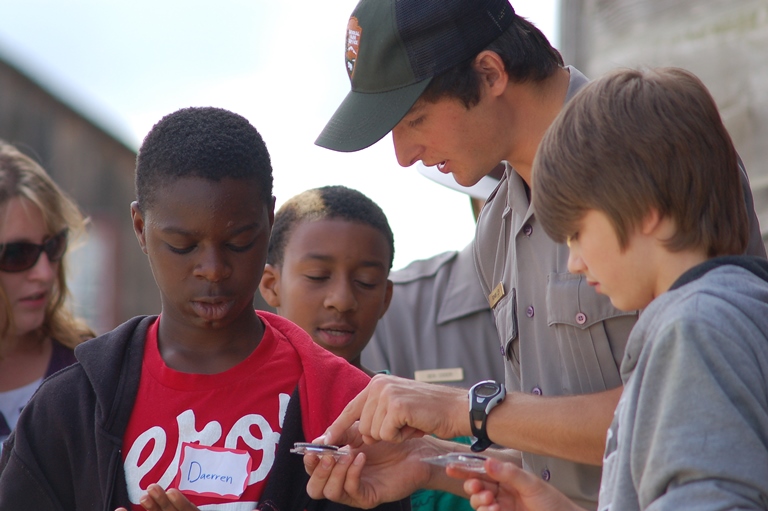 NPS PHOTO
Special Programs
The 4th annual Discover Washington: Youth Heritage Project, organized by the Washington State Trust for Historic Preservation, will be held at Fort Vancouver from July 15-18, 2015. This interactive field school connects high school students and their teachers to natural and cultural resources, introducing a younger generation to historic preservation. This year, participants will explore this early settlement of the American West, the process of archaeological excavation and the reconstruction of features that no longer exist as a way of interpreting the past.
In partnership with City of Vancouver Parks and Recreation, we are offering an 1840s Overnighter, a memorable camping experience at the park. This program, taking place in August 2015, includes two meals, a tour of the fur trading fort, and many family friendly, hands-on activities. Also in partnership with City of Vancouver Parks and Recreation, this summer, Fort Vancouver National Historic Site will be hosting a series of Bike Camps, which will teach young people about bike safety and fun, all at their local national park! During these six one-week camps, national park rangers will lead bike tours for youth ages 6-14 with a focus on safety, getting outside exercising and enjoying bicycling, and exploring nature and history. Learn more in the City of Vancouver Parks and Recreation's Summer Catalog, accessible here.
We are partnering with the Oregon Museum of Science and Industry and John Day Fossil Beds National Monument to offer several Fur to Fossil Camps. Recruitment for these week-long camps is done through local middle schools and community service organizations such as NAACP, SW Washington MESA, and the Boys & Girls Club. Participants have an opportunity to learn about these parks from a unique perspective, and join National Park Service staff for tours, hands-on activities, and campfire programs.
Students at Vancouver's Franklin Elementary School are creating Conservation Artwork for this national park! Their ongoing program focuses on natural resource conservation and responsible use. So far, students have created oil pastel masterpieces of wolves under a dark night sky, and three-dimensional renderings of bees and butterflies, two species currently under threat. These art pieces will be displayed at the park on a rotating basis.
North Bank Artists will be bringing their Art of Legacy program to the national park. During 2015, middle and high school students will use the museum collection at Fort Vancouver NHS to inspire art projects ranging from artifact printmaking to self-portraits as historical figures, to creating an "artifact of the future." Throughout the program, instructors and National Park Service staff will help students connect history and community to their creative process. Finished pieces will be displayed at Fort Vancouver NHS beginning with National Park Week in April 2016.
Visitor Center Rehabilitation
From 2014 to 2015, our historic Visitor Center has undergone a massive rehabilitation. Originally built in 1961 as part of the National Park Service's Mission 66 Initiative, this rehabilitation will upgrade the facility to meet current accessibility standards, improve the park's primary visitor restrooms, and upgrade the mechanical, electrical, and plumbing systems within the building.
The rehabilitated Visitor Center will also feature exciting new hands-on exhibits featuring site history, a new theater, local American Indian artists, and community spaces. The Visitor Center is scheduled to reopen in the fall of 2015.
Learn more about the rehabilitation project here.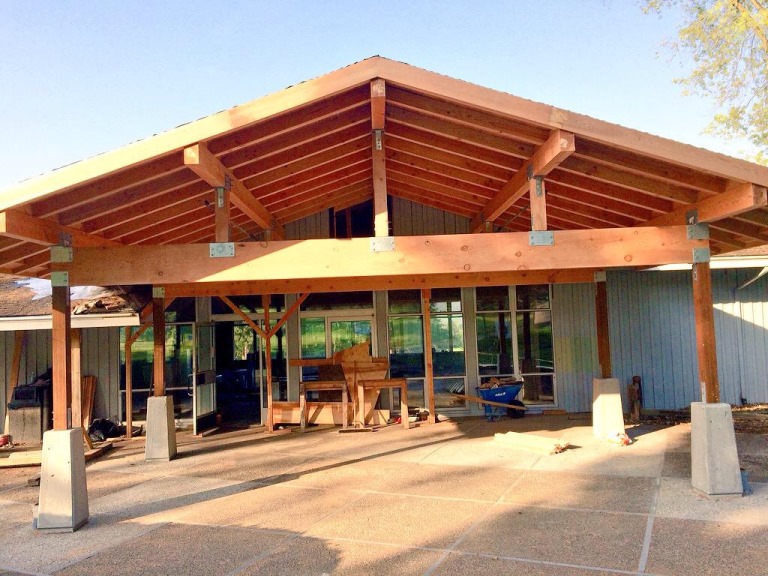 NPS PHOTO
Infantry Barracks Rehabilitation: New Headquarters for Gifford Pinchot National Forest
In 2015, Infantry Barracks 987, one of five signature buildings that front the historic Parade Ground at Vancouver Barracks, will be rehabilitated and serve as the new headquarters for the Gifford Pinchot National Forest. The eastern portion of Vancouver Barracks, managed by the National Park Service, has been envisioned as a public service campus, and this long-term partnership is an important first step in that direction.
The rehabilitation work includes upgrades to improve sustainability and accessibility. In addition, modern interior walls and other recent alterations will be removed to achieve a more open and light-filled environment and a greater historical integrity. Projects like this serve to open the military post to the public as never before, and gives our sister agencies a chance to engage with the public that would not exist elsewhere.
Social Media
Follow Fort Vancouver National Historic Site on social media for updates on all our exciting Centennial projects, programs, and events!
Follow us on Facebook.
Follow us on Twitter at @FtVancouverNPS
Follow us on Instagram at @fortvancouvernps