Working Class Women in the Army Era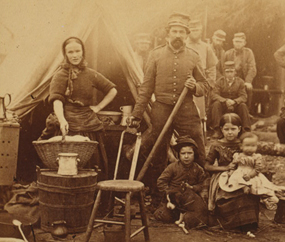 Library of Congress
by Marci Lim
At the U.S. Army's Fort Vancouver (later renamed Vancouver Barracks), working-class women provided important support to the soldiers - both the enlisted men as well as the officers. Officers and their families hired women to serve as cooks, servants, nurses, and midwives.
Each company commander also hired laundresses to wash the enlisted men's clothing. Laundresses were the only women officially recognized by the Army. As employees of the Army, they received daily rations, fuel, medical services, transportation and housing.
In the early days of Vancouver Barracks, officers' wives sometimes served as laundresses to gain the privileges of official army recognition, but hired servants to do the actual work for them.
Most laundresses were married to enlisted men or non-commissioned officers. At times, soldier-husbands cared for the children to give their laundress-wives time to do the company washing.
Theodore Talbot, a soldier serving at Vancouver Barracks in the early 1850s, copied a laundry recipe in a letter: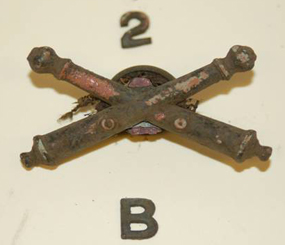 NPS Photo
A Receipt for Washing Clothes expeditiously (quickly) and with but little labor
1 Pint Alcohol.
1 Pint Spirits of Turpentine
1 oz. Liquid Ammonia
1 oz Gum Camphor.
Mix together and keep in a bottle well corked.
Two table-spoonfuls of this mixture to five gallons of water adding about one pound of brown Soap or more if you choose. … My washerwoman uses this in getting up (washing) my clothes, with much comfort to herself, great economy of buttons …and I believe no serious detriment (damage) to the linen.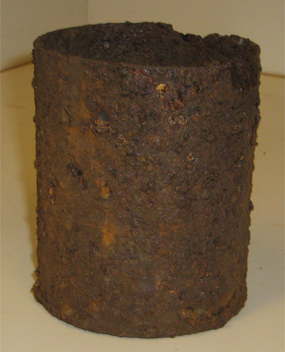 NPS Photo
Some women also found work in the many brothels that thrived in Vancouver and Portland. Soldiers often visited these "bawdy houses." Since the army strongly discouraged enlisted men from marrying, this was one way for them to find female companionship.
In addition to their paid duties, working-class women still had to care for their families. They cooked for their children as well as their husbands, because married soldiers did not eat in the company mess hall. They also had to do their own housekeeping and laundry.
Note: This page is part of an online exhibit entitled Beyond Officers Row: Duty & Daily Life at the U.S. Army's Fort Vancouver and created by the students of Portland State university as part of the 2009 Public History Field School. Click here to go to the exhibit's main page.