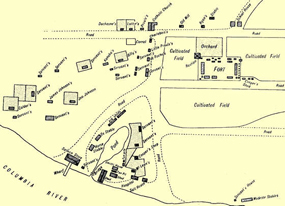 NPS Image
Most of the historical maps and accounts place the structures along roads or lanes. At least two roads--one running north-south and another running east-west--have been identified cartographically and archaeologically.
The north-south road connected the wharf and the pond area to Upper Mill Road. The east-west road (or Lower Mill Road) began in the village, passed by the southern wall of the stockade and continued on for several miles to the Company mill. In the village, where the Lower Mill Road intersects with the north-south lane, an entrance gate was indicated.
Today, most visitors enter the palisade from the north gate, through the gardens. In the nineteenth century, almost all traffic would have been through the southeastern gates in the palisade. Thus, most of the workers, traders, and visitors would have passed under the entrance gate on Lower Mill Road on their way to the Fort to work or conduct business.
Not only were there dwellings in the village, but a variety of other important structures as well. The unfortunate illnesses spread by European trade and settlement created the need for a hospital outside of the Fort palisade, which was built next to the pond.
Other structures nearby functioned as stables, a cooper's shop, a salt store, boat sheds, a distillery, a tannery, and servant's quarters.
A Salmon Store was established on the end of the wharf where salmon was salted and packed for shipment to places like the Hawaiian Islands.