People in the HBC Era 1824-1860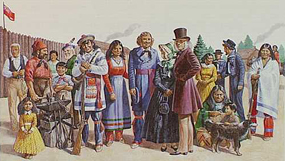 NPS Image
One of the hallmarks of a successfully functioning business is a clear and detailed accounting of its employees, including job titles, pay rates, status of employment contracts, and years of service.
Luckily for researchers and historians wanting to know more about the people the company employed, the HBC was no exception; it tracked this information annually through a document known as an Outfit.
Using the rigid class distinctions of these annual Outfits, please click on one of the links below for more information.
Company Servants
Company Clerks, Ship Officers, etc.
Company Officers
Other Fort Visitors