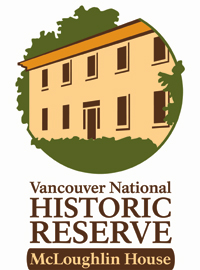 VNHR Image
Today, the house is restored to help tell of the life and accomplishments of John McLoughlin, known by many as the "Father of Oregon." Park staff and volunteers provide a number of different activities including tours, talks, special events, and demonstrations of Victorian-era women's handwork.
The McLoughlin House Unit is also on the Oregon National Historic Trail, which is part of the National Trail System. This system of national scenic, historic, and recreational trails promote the enjoyment of outdoor recreation, and the appreciation, and preservation of historic resources.
The graves of McLoughlin and his wife Marguerite are next to the house, as is the home of Dr. Forbes Barclay, a Hudson's Bay Company associate, and his wife Maria.
A cadre of dedicated volunteers, including many from the McLoughlin Memorial Association, work closely with park staff in the site's daily operation.
McLoughlin House Site Hours*: Friday and Saturday from 10:00 a.m. to 4:00 p.m. The Barclay House is open to the public from 10:00 am to 4:00 pm. The McLoughlin House is available by free tour at 10:15 am, 11:15 am, 12:15 pm, 1:15 pm, 2:15 pm, and 3:15 pm; tours begin at the Barclay House.
*The McLoughlin House Site is closed mid-December through mid-February.
For assistance please call 503-656-5151 during McLoughlin House open hours. For immediate assistance call Fort Vancouver at 360-816-6230 during regular business hours.