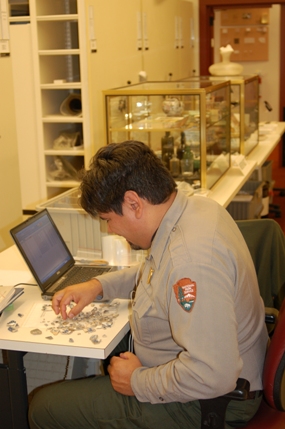 NPS Photo
Fort Vancouver National Historic Site cares for a vast collection of archaeological artifacts, historic objects, and archival documents that tell the stories of our site. The museum collection represents a wide variety of periods and cultures, including pre-contact and post-contact indigenous peoples, the Hudson's Bay Company fur trade, the U.S. Army, early military and civilian aviation at Pearson Field, and the Kaiser Shipyards.
Our curation facility currently houses over 2.5 million items! Approximately 90% of these objects come from archaeological excavations that have taken place on the site since 1947. Others were generously donated by individuals or groups in the local community.
Collections from several other, related sites are also curated here, including collections from Fort Colvile in Lake Roosevelt National Recreation Area, Fort Nez Perces in Whitman Mission National Historic Site, and the Bellevue Farm in San Juan Island National Historical Park, as well as collections from the Cathlapotle and Meier village sites.
Once items are accepted into our museum collection, they are protected in a climate-controlled facility, where staff work tirelessly to preserve and interpret them for current and future generations.
Management of Museum Collections at the Vancouver National Historic Reserve and Fort Vancouver National Historic Site
The legislatively-mandated partners of the Historic Reserve - the City of Vancouver, the State of Washington, the National Park Service, and the U.S. Army - have agreed that the National Park Service is the lead agency for the care and management of museum collections.
Prospective Donors
Our Scope of Collections document guides acquisitions to the museum collection, and ensures that we can appropriately care for the items we do accept. We focus on items that have a direct historical association with this site (including the Hudson's Bay Company Fort Vancouver, Vancouver Barracks, Pearson Field, the Spruce Cut-Up Mill, and Kaiser Shipyards) or a strong connection to an individual who worked or lived here. If you are interested in discussing a donation to our museum collection, please contact Curator Theresa Langford at (360) 816-6252, or by email.
Visiting the Museum Collection
Tours inside the collections storage rooms may be scheduled for groups of up to fifteen people (children over 10 are welcome). If you are interested in a tour, please contact Museum Technician Meagan Huff at (360) 816-6255, or by email.
Museum Collection Open House
Our Museum Collection Open House program offer visitors a unique, behind-the-scenes look into our curation facility, and the chance to get up close to our collection of two million archaeological and historic artifacts. Learn more here.
Future Museum Facility
To learn more about our plans for a future museum facility, click here.