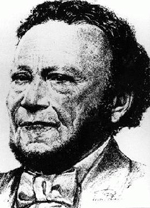 Henderson House Museum
George Washington Bush was another African American who pioneered settlement in the Pacific Northwest.
In 1844, after a long and varied career that included stints as a voyageur and fur trapper with the Hudson's Bay Company in the Pacific Northwest, Bush helped lead a party of settlers to the Oregon Territory.
According to John Minto, who traveled with Bush in 1844, Bush had preferred settling in the Willamette Valley but opted for the north side of the Columbia River upon learning of the prohibition of African American settlement.
The party wintered at the Dalles and at Fort Vancouver. Bush, utilizing his experience with the HBC and his familiarity with the fort's French Canadian employees, fostered friendships that helped supply the party with much needed food and supplies, and also increased his knowledge of the lands to the north.
Bush then continued to the Puget Sound area, wher in 1845 he established a homestead at Bush Prairie and helped found the city of Tumwater.
Despite the efforts of the Bush family -- and due, in part, to institutionalized discrimination -- it took a resolution of the territorial legislature and special act of Congress in 1855 to secure Bush's land title.