2013 Public History Field School - WSUV Fall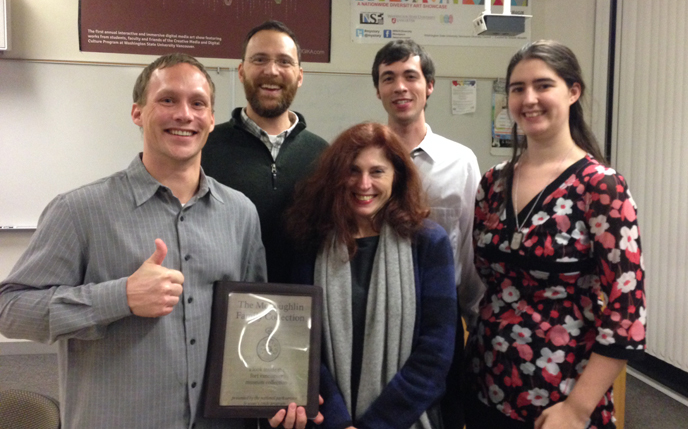 DTC 497: Senior Capstone - Digitizing The McLoughlin Family Collection
Project Description
Students in the Creative Media & Digital Culture (CMDC) program at Washington State University Vancouver (WSUV) will work with NPS Staff to create enhanced iBook publications from a traditional print publication in the National Park Service's Within the Collection series: The McLoughlin Family Collection.
Team
The project team will include:
Nicholas Rudy, WSUV CMDC Student & Project Manager
Kyleigh Williams, WSUV CMDC Student & Content Specialist (Animator & Video Development)
Greg Shine, NPS Chief Ranger & Historian, NPS Project liaison
Dr. Dene Grigar, WSUV Course Instructor & CMDC Director
Meagan Huff & Heidi Pierson, NPS Museum Technicians
Background
Fort Vancouver National Historic Site is one of just over 400 units of the national park system. Park staff preserve and protect more than two million historic objects in the park's museum collection, including the world's largest collection of archaeologically recovered Hudson's Bay Company artifacts and objects from several other national park sites.
To help connect visitors to these often delicate objects, park staff initiated a publication series titled Within the Collection that has thus far highlighted images and information of five types of historic objects curated in the park. Currently available in print and .PDF formats, the park wishes to expand the market for these free publications and also take advantage of digital enhancements available via the iBooks platform to better highlight these amazing public objects while not compromising their safety.
The recent publication of Revealing Our Past: A History of Nineteenth Century Vancouver Barracks through 25 Objects has demonstrated the potential of iBooks publications to highlight historic objects in the park's collection, and the park wishes to expand upon this watershed publication with an additional one that take even greater advantage of the features available through the iBooks platform.
Goals
To receive from students ready-to-publish digital files (in .ibooks and accompanying formats) that the park can publish as freely accessible .pdf files and iBooks via the iTunes Store for the McLoughlin Family Collection pamphlet in the Within the Collection series.
For students to experiment with creative ways of presenting the images and text of the publication, pushing the envelope where possible and utilizing the array of iBook Author features--while also working within our agency's HFC Editorial Style Guide and NPS Graphic Identity guidance.
For students to gain experience working with the National Park Service on a large digital media project, and for you to learn about the park's collections and the National Park Service's role as a protector of our national treasures.
For students to have fun!
Audience
The audience for these publications is a general adult audience (18+), but one that may have a specific interest in the topic (collectors, preservationists, enthusiasts, etc.).
Preferences for Development
General adherence to our agency's HFC Editorial Style Guide and NPS Graphic Identity guidance, with departures from it first approved by Greg, Meagan or Tessa before moving forward (including use of Frutiger & NPS Rawlinson typefaces throughout.
Use of color schemes based on those found at NPS.gov or that do not draw attention away from the objects themselves.
Adherence to our agency's Accessibility Guidelines.
For the iBook version, use of enhanced Multi-Touch features available through iBooks Author widgets, including imbedded video, interactive images and galleries galleries, pop-overs, and 3D images.
Use of the park's existing image, text, and InDesign files for the five publications (to be provided by us--please bring a high-capacity drive to download them), but also the opportunity for you to film and add your own video and/or photograph select objects (or coordinate additional photography through us) in close consultation with park staff.
Loading the player...

WSUViBook2013

WSUV iBook Project-Within the Collection

Duration:

3 minutes, 8 seconds

Credit / Author:

Greg Shine

Date created:

2013-08-21
Student-produced Resources
Final Publications
To access the webpage with all final versions of the project team's eBooks, please click here.
Comparative Analysis
The purpose of this comparative analysis was to review a number of existing iBooks and eBooks in order to identify both effective and ineffective design, layout, and use of widgets, and how the use of these elements impacts the content for the viewing audience. We intend to apply this knowledge to generate recommendations for the project, and ultimately to develop effective, interactive iBooks for the National Park Service.
Project Proposal
These documents define the students' project proposal for the National Park Service iBook Project and outlines the research conducted, the methods to be used in developing the project, and the projected timeline for project completion.
This document is a summary document that includes the documents listed above, plus a final draft .PDF version of the publication.