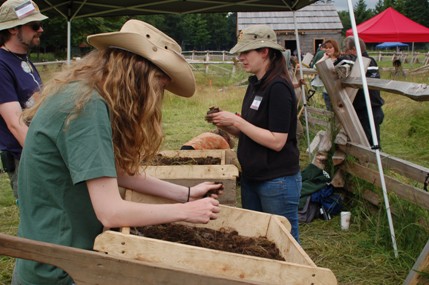 NPS PHOTO
Portland State University, Washington State University Vancouver, the National Park Service, Northwest Cultural Resources Institute, and the Fort Vancouver National Trust were pleased to announce a field school in historical archaeology at Fort Vancouver National Historic Site and Lava Beds National Monument.

The Public Archaeology Field School at Fort Vancouver recommenced in the summer of 2010 after a one-year hiatus. Twenty-eight students from around the country learned valuable skills in the areas of excavation, survey, laboratory work, and interpretation over the course of seven weeks. Under the direction of Dr. Doug Wilson, excavation took place in Fort Vancouver's multicultural employee Village, located to the west of the stockade. For many students, the school was their first experience in the field and a vital step toward becoming an archaeologist.
While learning archaeological methods, the students' work added to the over 50 years of archaeology in the Village. Archaeology is an important research method for understanding life in the Village because most occupants were illiterate, leaving few written accounts of their experiences. The research goal for the 2010 Field School was to examine how Village residents utilized the landscape around their houses. This included the use of outbuildings, activity areas, and land for gardening and raising livestock.