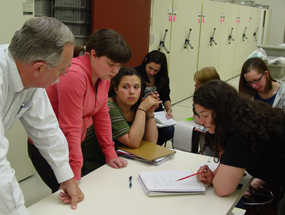 NPS Photo
Together, these three threads will provide the focus for the course and the foundation for the students' final project.
Throughout the course, students will work with Greg Shine, the lead course instructor, and other NPS park rangers, curators, archaeologists and public history professionals at Fort Vancouver National Historic Site, the Vancouver National Historic Reserve, and the Northwest Cultural Resources Institute.
PSU Associate Professor Katy Barber will also participate, helping to connect students with the broad methodological context of their work through discussions of Cathy Stanton's book
The Lowell Experiment: Public History in a Postindustrial City
.
In 2009, the Public History Field School is listed at PSU as HST409/509 -- Public History Seminar: Historic Site Interpretation.
Dig Deeper