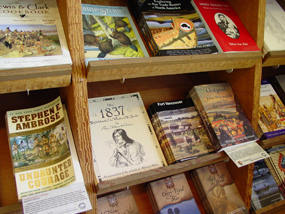 NPS Photo
The Bookstore has been temporarily relocated to the lobby of the Pearson Air Museum during the Visitor Center rehabilitation. To read more about the Visitor Center rehabilitation click here.
You can find the bookstore at 1115 East 5th Street, Vancouver WA 98661, or you can reach the Bookstore Manager directly at (360) 992-1824 for more details.
Another bookstore can be found at the park's McLoughlin House unit in Oregon City, Oregon. This bookstore is operated by McLoughlin Memorial Association, and is located in the Barclay House at 613 Center Street (next door to the McLoughlin House).