Fort Union Rendezvous Headliner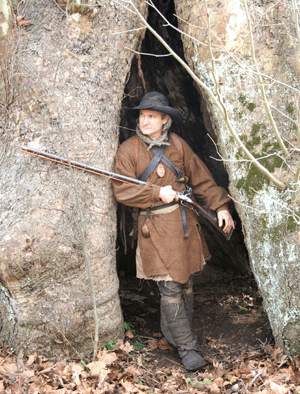 18th Century Culture Expert Mark Baker will Headline this year's Rendezvous!
Since 1986, Mark Baker has contributed articles to Muzzleloader Magazine about 18th century frontier culture, living history, experimental archeology, and living in the woods in the manner of a colonial backwoodsman. The first twenty years of the articles are now available as a two-volume anthology, A Pilgrim's Journey. He is also the author of a hefty tome on the social history on the frontier culture entitled Sons of a Trackless Forest.
Mark trained Daniel Day-Lewis in running and reloading skills for his role in Last of the Mohicans; and a few years later, he also trained Mel Gibson, Jason Isaacs, and Heath Ledger in marksmanship and reloading for The Patriot. Mark served as a trainer and consultant on wilderness survival skills for an Unsolved History episode on the Donner Party. He played Davy Crockett in Hunter Heroes: Boone and Crockett. Mark is also the featured expert on woodsman skills in the first four volumes of American Pioneer Video's The Long Hunter Series. Mark's topic for this year's School of the Longhunter will be "Exploring the World of the Longhunter and How He Found His Place" and "Tales of Hunting and Survival and the Making of a National Icon".
Mark Baker will present daily at Fort Union.
Traders and campers in period dress will set up just outside of Fort Union's north wall, with trader's row extending northward from the back gate. The traders will have their usual array of furs and handcrafted items available. Each day will feature a variety of speakers and demonstrations including blacksmithing, canoes of the fur trade, sign language, flint knapping, period cloth, finger weaving, weapon firing, beaver skinning, brain tanning and pottery making. Bagpipers will perform Sunday afternoon. A special daily presentation will be done on the use of cameras and photography during the 19th century.
An array of trade goods will also be presented in the trade house. The American Fur Company traded beads, cloth, blankets, knives, guns, tobacco, and cooking kettles in exchange for buffalo robes and other furs from the Assiniboine, Crow, Cree, Ojibway, Blackfeet, and Hidatsa tribes. Taken from the clerk's ledger lists of 1848-51, exact replicas of more than 200 trade items are available for purchase today.
Come and spend the day at Rendezvous. Admission is free. Buffalo burgers and drinks will be on sale in the parking lot.
Complete 2012 Rendezvous schedule - Updated!
2012 Rendezvous Information for Visitors
The 21st annual Rendezvous Run will take place Saturday morning at 9:00 am (CT). The event is sponsored by the American State Bank and will include 11K and 5K runs, a 5K walk, and a "one-mile" fur trader's run/walk.
The Rendezvous Run will feature Special Presenter, the Chicago Bear's Levi Horn. An enrolled member of the Northern Cheyenne Tribe of Montana and grew up in Spokane, Washington. Levi was 12 pounds at birth. In sixth grade he was six feet tall; in eighth grade he was 6-4 and 240 pounds. His large size made him a natural for playing the game of football and his talent developed into high school. Levi became an All-State athlete his senior year and was awarded a football scholarship to the University of Oregon. After one year at Oregon, Levi transferred to the University of Montana where he would go on to play in 53 career games with 37 starts and win several conference and team awards.
Levi has just completed his second year in the National Football League as a member of the Chicago Bear's football team. Levi is actively utilizing his successes in professional athletics as a source of inspiration for Native people everywhere. He has participated in various Bureau of Indian Education events and traveled to several Tribal Nations throughout the United States and Canada as a keynote speaker and presenter. He was also recently selected as one of Indian Country's "Top 40 Under 40". In an age when most professional athletes shy away from role model status, Levi embraces and champions it.
Levi Horn He will be there for the race as well as help with award presentations and give a presentation after the race.