Multimedia Presentations
follow link for Introduction presentations
Fort Union Highlight video (2:50)
How would you make a trade at Fort Union?

Learn how American Fur Company traders negotiated with the Indian Traders at Fort Union Trading Post in 1851.

Have you ever wondered what types of things Fort Union has been housing in its collection vaults? Well the mystery is over - check out this behind the scenes peek into the museum collection.
Archeologists found thousands of artifacts as they excavated the remains of Fort Union!  This video reveals some of their discoveries.
How does a Flintlock trade gun work?

Trade guns were an important trade item for the Northern Plains Indians; learn about the different fur trade guns and how to use them.

Buffalo Robes were the primary trade medium at Fort Union Trading Post. Ever wonder how would you brain tan a Buffalo Robe?
What kind of music did they listen to here?

This video documents some of the music at an 1800's fur trading post in North Dakota.

Did You Know?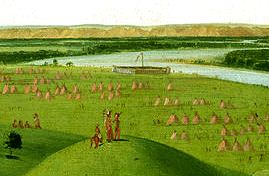 During George Catlin's trip up the Missouri River in 1832 he visited Fort Union Trading Post and the Knife River Indian Villages. On this trip he put to pen the idea which became the inspiration for the National Park System.