Photos & Multimedia
Looking for photographs of Fort Union Trading Post? - click here
Want to upload you own photographs of Fort Union Trading Post? Check out our facebook site here or our new Flicker site here!
Check out our park videos here. You'll find videos about firearms, the museum collection, bison robes and more! Check back often for new videos.
Did You Know?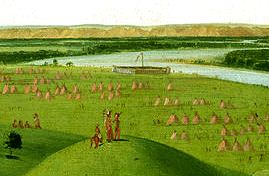 During George Catlin's trip up the Missouri River in 1832 he visited Fort Union Trading Post and the Knife River Indian Villages. On this trip he put to pen the idea which became the inspiration for the National Park System.