Fire Regime
2000 Prescribed Fire, the first at Fort Union Trading Post NHS Paula Andersen
Nature & Science
Fire Regime

The park implemented a prescribed fire program in 2000. As part of the management and re-establishment of native grass species, prescribed fire is used to mimic the role that wildfire once played on the prairie.
Fire Management Program Center supplemental website


Did You Know?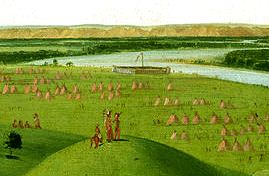 During George Catlin's trip up the Missouri River in 1832 he visited Fort Union Trading Post and the Knife River Indian Villages. On this trip he put to pen the idea which became the inspiration for the National Park System.