Directions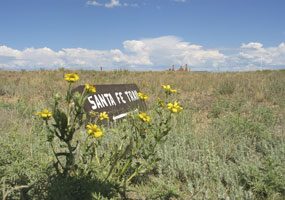 Getting There

Plane
Fly to Albuquerque, NM or Denver, CO.

Car
From Albuquerque (156 miles), Santa Fe (94 miles) or Las Vegas, NM (28 miles) take I-25 north, exit 366 at Watrous, 8 miles on NM 161.
From Denver (313 miles), Colorado Springs (243 miles) or Raton (95 miles) take I-25 south, exit 366 at Watrous, 8 miles on NM 161.

Public Transportation
No bus or public transportation service to Fort Union.




Did You Know?
Freemasons were among the first to advocate for the preservation of Fort Union, the site where two Masonic lodges had been founded. On January 23, 1929, the members of Chapman Lodge No. 2 at Las Vegas (one of the lodges which had its origins at Fort Union in 1862) selected a committee to "have Fort Union declared a national monument."