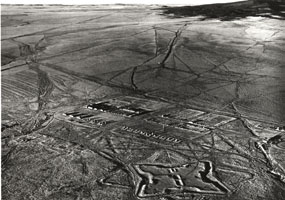 National Park Service
Civil War-era earthen fort at Fort Union National Monument, New Mexico
"Although the Second Fort's general configuration is discernible from its current surface topography, the precise nature of its mid-nineteenth-century construction and layout presently remains unknown. It encompasses 33-acre site, and although a map of the Second Fort currently exists, partially derived from the fort's present-day surface topography, that map is largely conjectural, based upon assumptions about how the fort ought to have been configured, presuming it had been laid out in strict accord to established, mid-nineteenth-century U.S. Army protocols. The actual fort likely deviates from such idealized military specifications, yet exactly how and to what extent it deviates is presently unknown.
Fort Union's second fort, a massive, bastioned earthwork constructed in 1861 and largely abandoned by the close of 1863, stands as a unique and important example of mid-nineteenth-century American military architecture. The fort is exceptional for several reasons: Firstly, it is integrally associated with the Battle of Glorieta Pass (March 26-28, 1862), a crucial western engagement of the Civil War and a decisive Union victory that ended Confederate incursions into the American Southwest. Secondly, it is the sole surviving earthen star fort erected west of the Mississippi River. And thirdly, it is the most intact, least-disturbed Civil War-era bastioned earthen fort surviving anywhere within the United States today. For all of these important reasons the Second Fort is exemplary and warrants closer, more methodical examination than it has received to date.
A proposed multi-phased, interdisciplinary field study of the Second Fort (one involving geophysicists, archeologists, historical architects, military historians, and others) may yield valuable new insights into Civil War-era earthen fort construction and use. Concomitantly, the NPS's interpretations of such earthen fortifications will improve—not only at Fort Union National Monument, but at other, more easterly NPS units also containing Civil War-era earthen forts (e.g., Fort Donelson NB in Tennessee; Fort Foote Park in Maryland).
The Civil War-era earthen fort at Fort Union National Monument was added to the National Register of Historic Places in October 1966."
- Andrew Veech, Archeologist, IMR