No Elevator Service at Fort Sumter

The museum, restrooms, bookstore, and top level of Fort Sumter are only accessible by climbing stairs. For more information, visit the link below or please call (843) 883-3123. More »
Types of Volunteers
Fort Sumter National Monument and Charles Pinckney National Historic Site have two types of "Very Important People" in the Volunteers-In-Parks program.
Local Volunteers
RV Volunteers
The job positions, goals, major duties, qualifications and training are the same for both types of volunteers. The difference is that RVers volunteer more hours per week in exchange for the park providing a free RV site at Charles Pinckney NHS. Please read the RV Volunteers section for more details.
A volunteer may be asked to work at any of the four NPS sites in the Charleston area. Opportunities are available to work at:
Fort Sumter
Fort Moultrie
Fort Sumter Visitor Center and Tour Boat Facility
There is a variety of job opportunities at each of the sites. It is our goal to match the park's needs with the volunteer's interests and skills to ensure a positive experience for all. The following job titles will give you an idea of the major volunteer opportunities. Please realize that this in not a complete job listing as we can tailor a job description to meet the volunteer's and park's needs:
Visitor Center Assistant
Curatorial Assistant
Historical Transcriber
Library Assistant
Administrative Assistant
Resource Management Assistant
Writer / Editor For Park's Administrative History


Did You Know?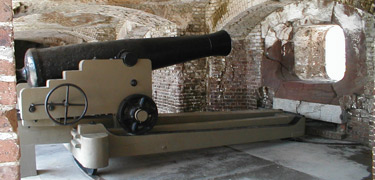 The first Union shot of the Civil War was fired by Captain Abner Doubleday. He was the second senior officer at Fort Sumter, under Major Robert Anderson. Fort Sumter National Monument, SC