No Elevator Serivce at Fort Sumter

The museum, restrooms, bookstore, and top level of Fort Sumter are only accessible by climbing stairs. For more information, visit the link below or please call (843) 883-3123. More »
No Water or Restrooms at Fort Sumter

Due to a break in the Charleston water line supplying Fort Sumter, restrooms and drinking water are not available at the fort. Please bring drinking water with you if you plan to visit. Water and restrooms are available aboard the ferries.
Visiting Fort Sumter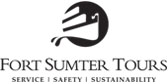 Tickets and Reservations
Tour boats to Fort Sumter are provided by Fort Sumter Tours, the authorized concessioner of Fort Sumter National Monument. The National Park Service highly recommends purchasing tickets prior to the day of your visit. For more information on the park concessioner, visit: www.FortSumterTours.com.
National Park Pass Program
National Park Passes and Federal Recreation Lands Passes apply only to entrance fees. Passes do not apply to transportation to this site. Fort Sumter National Monument does not charge an entrance fee.
Did You Know?

Fort Moultrie is the only unit of the National Park System where the entire 171-year history of American seacoast defense (1776-1947) can be traced. Fort Sumter National Monument, SC