Visiting Fort Sumter by Private Boat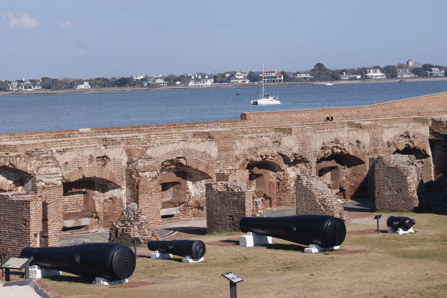 Photo: NPS/Everitt
Fort Sumter by Private Boat
Visitors are welcome to use their private vessels (including kayaks, canoes, paddle boards, or motorboats) to access Fort Sumter during normal operating hours listed below. Visitors using their own boats are highly encouraged to beach or anchor their vessel on the western side of Fort Sumter, between the fort and James Island.

Operating Hours by Season
Fort Sumter is open year round except for New Years, Thanksgiving and Christmas Days. Hours of operation are:
January 1 - Closed
January 2 - February 29 - 11:30 AM to 4:00 PM
March 1 - March 14 - 10:00 AM to 4:00 PM
March 15 - August 20 - 10:00 AM to 5:30 PM
August 21 - August 28 - 10:00 AM to 4:00 PM
Labor Day Weekend (Fri-Sat-Sun) - 10:00 AM to 5:30 PM
Labor Day - November 30* - 10:00 AM to 4:00 PM
*Thanksgiving Day - Closed
December 1 - 24 - 11:30 AM to 4:00 PM
December 25 - Closed
December 26 - 31 - 10:00 AM to 4:00 PM
Tour Boat Pier
The National Park Service strongly discourages anyone from tying up to the tour boat pier, however if you choose to do so please:

DO tie off to cleats attached to the pier.
DO access the pier only using the ladders.
DO NOT tie off to ladders, pillars or handrails.
DO NOT use lines already attached to the pier, these are reserved for tour boat and NPS operations.
DO NOT remove life jackets until you have safely climbed the ladders onto the pier.
DO NOT leave the access gate to the ladders open.
For the most up-to-date information on
visiting Fort Sumter like us or follow us at:
www.Facebook.com/FtSumterNPS
www.Twitter.com/FtSumterNPS