Fort Sumter Elevators Out Of Service

The elevators at Fort Sumter are out of service until further notice. Disabled visitors departing from Liberty Square will have access to restrooms on board the ferry boat while at Fort Sumter. For more information, please call (843) 883-3123.
Fort Sumter Concessioner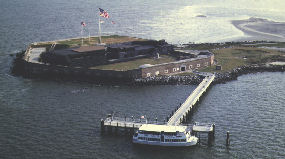 Fort Sumter is located on a small island in Charleston Harbor and is accessible only by boat. Visitors with access to a private boat may visit Fort Sumter free of charge during
normal hours of operation
.
Ferry service to Fort Sumter is provided by a National Park Service authorized concessioner. For information on ticket prices, departure times and locations, please visit the website of
Fort Sumter Tours, Inc.
Did You Know?

Union Maj. Robert Anderson, commanding Fort Sumter, and Confederate Gen. P.G.T. Beauregard, commanding Charleston's forces during the first battle of the Civil War, knew each other since the 1830s. Anderson was Beauregard's artillery instructor at West Point. Fort Sumter National Monument, SC