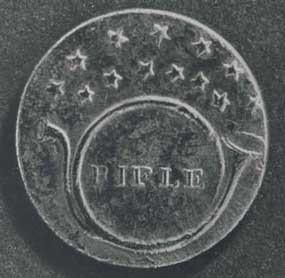 Rifle Regiment Button
excavated at Belle Point, site of the first Fort Smith
c. 1815-1821
Several buttons like this were found in the 1960s archeological excavation of the site of the First Fort Smith. The fort was established in 1817 by the US Regiment of Rifles. The buttons would have been sewn on the fringed, green linen frocks worn by the soldiers of the Rifle Regiment.
The main element on the metal button is the bugle, commonly associated with the Rifle Regiment. 13 five point stars are arranged in two arcs above the bugle.