Exhibits Closed

Beginning Monday August 25, the infantry barracks museum will be closed for remodeling and to prepare for a new theater and exhibits. Work is expected to be completed by spring of 2015. The site's movie will be played in the visitor center upon request.
Visitor Center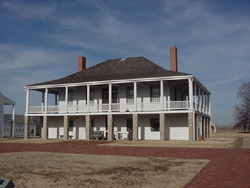 NPS Photo
Visitor Center-Post Hospital
Open All Year
April 1 to October 31 8:00 a.m.-5:00 p.m.
November 1 to March 31 8:30 a.m.-4:30 p.m.
Closures
Thanksgiving, Christmas, and New Years Day.
Available Facilities
Restrooms and bookstore in visitor center.
Audio-visual program in infantry barracks museum.


Did You Know?

Politics made strange bedfellows. John Little, a proslavery man, was shot to death at his father's store, by free state men who raided Fort Scott in December 1858. A friend, George Crawford, a free state man, was staying with Little that night. Crawford had once been the target of proslavery men.