Storewide sale-15% off

Fort Scott's bookstore, operated by Western National Parks Association, will be participating in Mistletoe on Main Street, a downtown shopping event on December 12 from 5- 8 p.m. The site will be offering 15% off all items in the store.
Visitor Center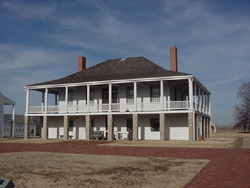 NPS Photo
Visitor Center-Post Hospital
Open All Year
April 1 to October 31 8:00 a.m.-5:00 p.m.
November 1 to March 31 9:00 a.m.-5:00 p.m.
Closures
Thanksgiving, Christmas, and New Years Day.
Available Facilities
Restrooms and bookstore in visitor center.
Audio-visual program in infantry barracks museum.


Did You Know?

Fort Scott never did have a wall around it. It was built upon a bluff which had three steep sides and opened up to prairie in a gradual slope on the south. Many forts were not built with walls at the time; the fort with a stockade is more a product of Hollywood mythology than actual fact.