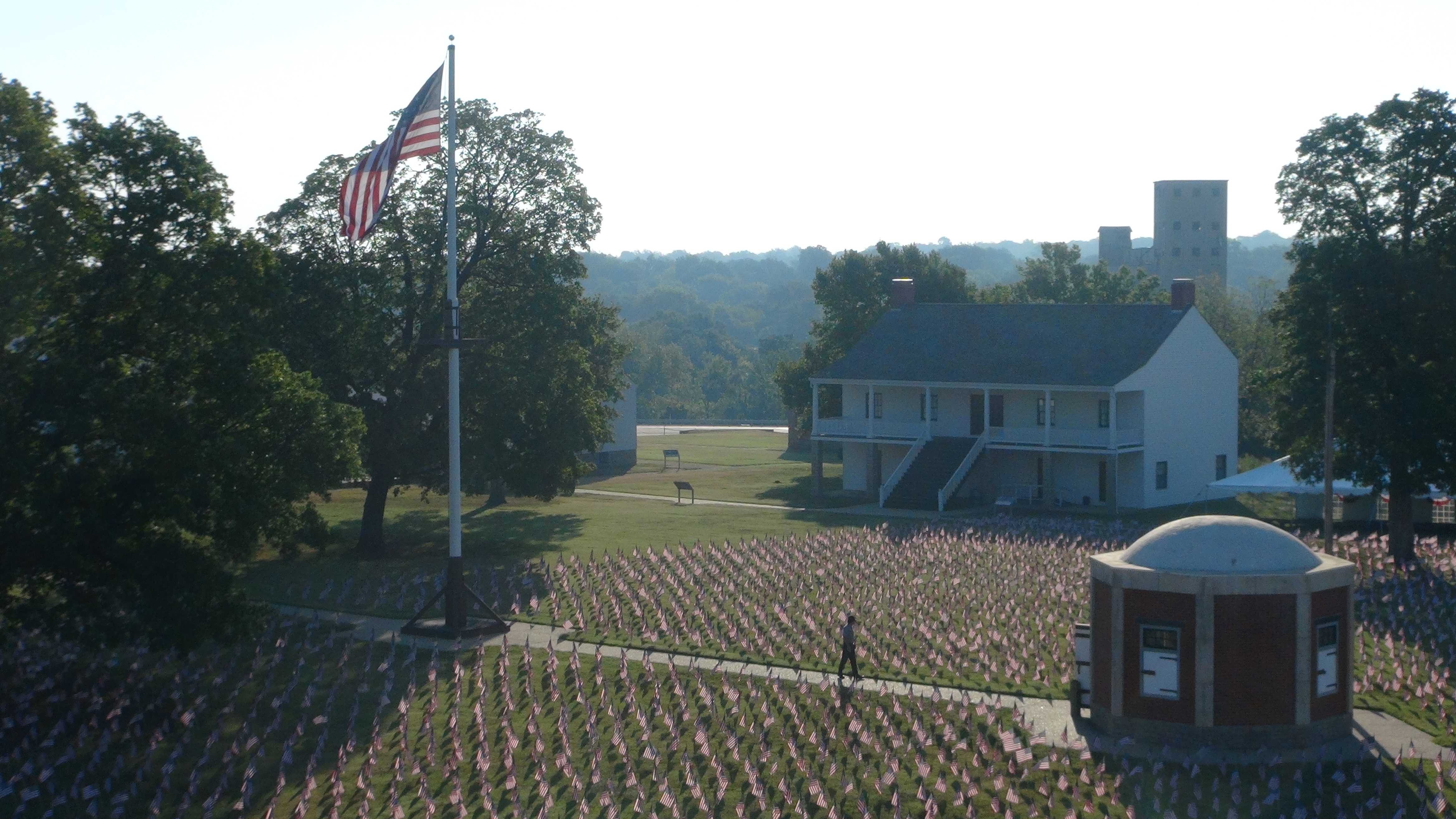 Fort Scott National Historic Site (FSNHS) is pleased to partner with the Friends of FSNHS, Mercy Hospital, and the Symbols of Sacrifice Committee to present Symbols of Sacrifice, a series of programs and activities that honor the sacrifice of Americans throughout our nation's history. The main focus of the event will be a Field of Honor on the historic FSNHS Parade Ground, where a US flag will fly for each service member who has died while serving in theater supporting US military operations during the War on Terrorism. The purpose is to remember the fallen, their sacrifice and their humanity, not to glorify war.
Activities begin at 7:00 a.m. on Saturday, September 13, when the reading of the names of the nearly 7,000 fallen shall begin over the downtown public address system. The reading shall temporarily pause for the 9:00 a.m. start of the Mercy Hospital/Friends of FSNHS non-competitive 5K Run and 1 Mile Walk from Skubitz Plaza, adjacent to FSNHS. You can show your support by participating in either of these events. Registration is available online at
http://www.mercy.net/fort-scott-foundation-events-0
Paper forms for mailing in your registration are available at Mercy Hospital in Fort Scott, as well as at the FSNHS Visitor Center. Please try to register by September 1st, although late registration is available, subject to the terms listed with the registration.
Activities continue at FSNHS at 10:45 a.m. with a timeline of uniformed re-enactors in period military garb who will highlight American military sacrifice from the Revolution to the 21st Century. At 11:30 a.m. the Fort Scott High School ensemble and band shall perform patriotic musical selections leading up to a noon remembrance ceremony "on the bricks" in front of the FSNHS Visitor Center. Along with much appreciated local participation, US Army (Retired) Lt Colonel Peter Schifferle, PhD, Professor of History at the Command and General Staff College at Fort Leavenworth, shall provide appropriate keynote remarks, and members of the Kansas City St. Andrew's Pipes and Drums shall offer selected musical interludes.
For those who are interested, the Farmers' Market shall have lunch options available for sale on Skubitz Plaza. Visitors are welcome to visit the Field of Honor before and after the noon ceremony. Activities continue soon after conclusion of the noon ceremony with Lt Col Schifferle offering a more in-depth discussion of American military sacrifice. Local favorite Ralph Carlson and friends shall provide a stirring patriotic music concert beginning at 2:00 p.m., and those who missed the morning's military timeline program shall have the opportunity again at 2:45 p.m.
While seating will be provided for the noon ceremony, the public is welcome to bring personal folding chairs. All FSNHS programming is mobility-impaired accessible and assistive listening devices are available to those who need such –just ask a uniformed park employee for assistance. Those who plan to attend the noon ceremony and require a sign language interpreter are asked to contact FSNHS at 620-223-0310 not later than September 2 so that we can make arrangements.
The FSNHS Symbols of Sacrifice program agenda, subject to minor change, is as follows:
Saturday, September 13
7:00 a.m. –Reading of the Roll of Honored Dead in downtown Fort Scott begins
9:00 a.m. –Mercy Hospital / Friends of FSNHS sponsored 5K and 1 Mile Walk starts from Skubitz Plaza (registration fee required)
10:45-11:15 a.m. –American Military Sacrifices through the Years Timeline
11:30-12:00 noon –Music by FSNHS ensemble and band
12:00 noon-12:45 pm –Remembrance Ceremony
12:45 pm –Field of Honor formally opens with playing of Amazing Grace
1:15-1:45 pm –Discussion of American Military Sacrifice with Lt Col (Ret) Schifferle
2:00 –2:30 pm –Patriotic Music by Ralph Carlson and friends
2:45-3:15 pm –American Military Sacrifices through the Years Timeline T
he Field of Honor will remain open during daylight hours from Thursday, September 11, through Wednesday, September 17. Other than the Mercy/Friends run/walk, all Symbols of Sacrifice programs are free and mobility-impaired accessible. Fort Scott National Historic Site is a unit of the National Park Service. The park buildings are open from 8:00 a.m. to 5:00 p.m. The grounds are open from dawn to dusk.