Exhibits Closed

Beginning Monday August 25, the infantry barracks museum will be closed for remodeling and to prepare for a new theater and exhibits. Work is expected to be completed by spring of 2015. The site's movie will be played in the visitor center upon request.
Shared Stories of the Civil War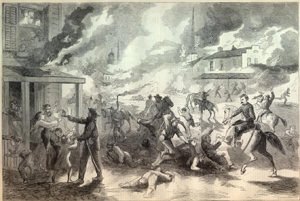 Fort Scott National Historic Site invites the public to "Quantrill's Raid and Order No. 11," a reading and discussion event on Saturday, August 3, at 2:00 p.m. in the site's Grand Hall.
"Quantrill's Raid and Order No. 11" is part of Shared Stories of the Civil War, a collection of reader's theater scripts created from historical letters, diaries, newspaper articles, and other archival documents from the 1850s and 1860s. The scripts explore the events – the shared stories – that occurred in Kansas and Missouri during the Border War and American Civil War.
The border between Missouri and Kansas was marked by tension and violence in the years leading up to the Civil War. Raids, sackings, murder, and mayhem were so commonplace it became known as the "Border War." Yet, even with the question of statehood resolved by January 1861, both Kansans and Missourians remained suspect of those thought sympathetic to "the other side," be it abolition or slavery. Lincoln's election, secession, and the Civil War gave purpose for renewing partisan hostility as Bushwhacker and Jayhawker guerrilla militias sought retribution for past deeds and revenge for those that soon occurred. Vigilante violence quickly reached well beyond the border area.
In August 1863, the most notorious events in this war within a war took place. William Quantrill led his Raiders against Lawrence, Kansas's stronghold of abolition. Attacking at dawn, the town was destroyed and more than 150 men and boys executed. Days later, Union general Thomas Ewing issued General Order No. 11 which effectively depopulated four Missouri border counties in hopes of preventing further raids. The innocent suffered dearly on both sides of the border.
Shared Stories of the Civil War is a partnership between Freedom's Frontier National Heritage Area (FFNHA) and the Kansas Humanities Council (KHC). For more information, visit www.freedomsfrontier.org or www.kansashumanities.org
Fort Scott National Historic Site, a unit of the National Park Service, is open 8:00 a.m. until 5:00 p.m. There is no fee to enter the park or participate in the program.
Did You Know?

Fort Scott never did have a wall around it. It was built upon a bluff which had three steep sides and opened up to prairie in a gradual slope on the south. Many forts were not built with walls at the time; the fort with a stockade is more a product of Hollywood mythology than actual fact.