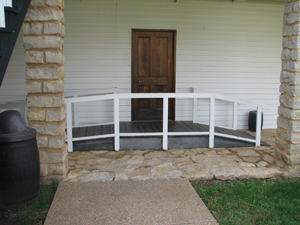 The Visitor Center is wheelchair accessible via ramps at both the north and south entrances. Other buildings with ramps that allow access to the first floor include the infantry barracks, the guardhouse, and the mess hall in the dragoon barracks.
Buildings that are wheelchair accessible without ramps include the dragoon stables, ordinance shed, carriage house, and powder magazine. The laundress quarters, company office, and non-commissioned officer's quarters, all located in the dragoon barracks, may be viewed from their respective doorways, but the interiors of these rooms are not open to the public for entrance.
For those visitors who experience difficulty with stairs, there are exhibits on-site which require little climbing in order to view. The commandant's office, the first floor of the officers' quarters, and the bakery are all exhibits with just one or two steps up to the entrance.