Exhibits Closed

Beginning Monday August 25, the infantry barracks museum will be closed for remodeling and to prepare for a new theater and exhibits. Work is expected to be completed by spring of 2015. The site's movie will be played in the visitor center upon request.
Labor Day Weekend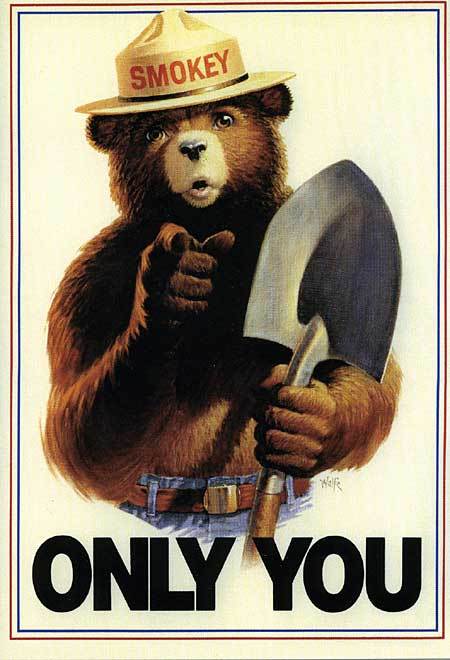 In a popular song from the 1950s, the lyrics read that Smokey Bear could "spot a fire before it starts to flame, that's why they call him Smokey, that is how he got his name"Popular lyrics, but that is not how Smokey got his name,
This Labor Day weekend, Smokey Bear's 70th birthday will be celebrated at Fort Scott National Historic Site. Six original Smokey Bear Posters designed by Kansas artist Rudy Wendelin, will be on display that weekend along with posters designed by area youth.Smokey Bear memorabilia will be available and Smokey Bear himself will make an appearance. A special program on the history of Smokey Bear will be offered on Saturday afternoon, August 30, along with birthday cake. Bourbon County firefighters will also be honored during this program.
To complement the tribute to Smokey Bear, programs and stations on August 30, will focus on the use of fire and smoke at Fort Scott. A talk about the bakehouse will be presented (although no bread will be made that day), open hearth cooking demonstrations will be going throughout the day, the sutler will have period smokes on display, and the artillery will be fired.There will also be a children's program about the guards at Fort Scott, who had the job of fire watch.Children attending the program will form a bucket brigade to demonstrate 1840s firefighting.Additionally, a member of a Fish and Wildlife hotshot team will be on site to discuss prescribed burns and fire management.
On Sunday and Monday, programs will focus on stories of Fort Scott from the "Bleeding Kansas" era and the Civil War. Raids on Fort Scott will be a living history program in which site volunteer Rich Ankerholz will portray and tell the story of James Montgomery who led several raids on Fort Scott in 1858.In But I Can Fire a Pistol, site volunteer Susan Anderson will be brandishing a pistol as she portrays Sene Campbell, who suffered a loss at Fort Scott during the Bleeding Kansas era.Spirituous Liquors will focus on the ill effects of alcohol that Civil War soldiers experienced as seen from the eyes of a hospital steward.In Saws and Scalpels, a surgeon will demonstrate Civil War medicines and surgical equipment.There will also be an artillery firing demonstration each day and on Monday the site will offer a special tour for Labor Day focusing on the construction of Fort Scott and the workers who built it.
The schedule of activities for the weekend is listed below:
SATURDAY, AUGUST 30
10:00 am –

From the Firebox to the Oven: 1840s Bread Making

11:00 am –

Thunder Wagon:1840s Artillery Demonstration

11:30 am –Bucket Brigade: 1840s Guard Duty and Firefighting

2:00 pm –

Blazing Prairies: Fire Management at Fort Scott NHS

3:00 pm –

Smokey Bear Program and Birthday Party
SUNDAY, AUGUST 31
11:00 am –

Thunder Wagon:1840s Artillery Demonstration

12:00 pm - But I Can Fire A Pistol: The Story of Sene Campbell

2:00 pm –

Spirituous Liquors:Alcoholism and the Civil War Army

3:00 pm –

Raids on Fort Scott:A Talk with James Montgomery
MONDAY, SEPTEMBER 2
11:00 am –

Thunder Wagon:1840s Artillery Demonstration

12:00 pm - Raids on Fort Scott:A Talk with James Montgomery

1:00 pm –

"Crack Post of the Frontier"-Construction Tour at Fort Scott

2:00 pm –

Saws and Scalpels: Civil War Medicine

3:00 pm –

But I Can Fire A Pistol: The Story of Sene Campbell
Fort Scott National Historic Site, a unit of the National Park System, is open daily from 8 a.m. –5 p.m.Entrance to the site is free of charge.For more information, call 620-223-0310 or visit our website at www.nps.gov/fosc.You can also find us on Facebook.
Did You Know?

Captain Thomas Swords, the quartermaster in charge of building Fort Scott, said that the other officers were of no assistance in planning and designing the fort and that "none of them can draw a straight line even with the assistance of a ruler".