Labor Day Weekend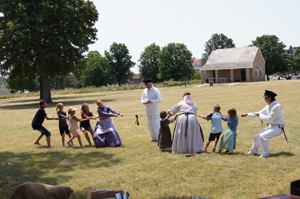 NPS Photo
This Labor Day weekend take a break from your job and visit Fort Scott National Historic Site as the site answers a call to action to get people outside and to engage them with stories of the past. Programs on Saturday will be designed to connect visitors to outdoor activity with a prairie walk, historic games, and outdoor cooking. 1840s soldiers will be firing artillery and conducting flag retreat. And at 3 p.m. visitors can participate in a readers' theater where they will read parts in stories of the dragoon soldiers at Fort Scott.
The activities will continue Sunday and Monday with readers' theaters addressing Bleeding Kansas and the Civil War respectively. There will also be special guided tours each day; the tour on Sunday will address the important role women played at the fort, and the tour on Monday will discuss the challenges the U.S. Army at Fort Scott faced in building a frontier post. Additionally, there will be programs offered about the herb gardens at Fort Scott and the role of the ordnance sergeant (the man who took care of the guns). Small arms demonstrations will also be offered both of these days.
Throughout the weekend people will be dressed in period costume portraying various people who lived and worked at Fort Scott. On Saturday visitors can smell the fresh aroma of bread baking, scrub clothes on a 19th century washboard, and discover the remedies of the post surgeon. On Monday they can haggle with the sutler over his prices and on Sunday and Monday they can visit with a reenactor portraying a soldier in the First Kansas Colored Infantry Regiment.
The schedule of activities is listed below:
SATURDAY, SEPTEMBER 1
10:00 am - A Most Magnificent Prairie: Prairie Walk
11:00 am - Thunder Wagon: Artillery Demonstration
11:30 am - Food for Thought: 19th Century Cooking
12:00 pm - Let the Games Begin: Historic Games Program
1:00 pm - Guided Tour
2:00 pm - Thunder Wagon: Artillery Demonstration
3:00 pm - "Flash Flood"-Westward Expansion Readers Theatre
4:00 pm - Flag Retreat
SUNDAY, SEPTEMBER 2
11:00 am - Small Arms Demo
1:00 pm - "Women of the Fort" - Guided Tour
2:00 pm - "Thyme and Thyme Again" - Herb Garden Talk
3:00 pm - "Montgomery's Raid" -Bleeding Kansas Readers' Theatre
4:00 pm - Flag Retreat
MONDAY, SEPTEMBER 3
10:00 am - Small Arms Demo
11:00 am - "Who's Minding the (Military) Stores?" - Ordnance Sergeants at Fort Scott
1:00 pm - "The Crack Post of the Frontier" - Guided Tour
3:00 pm - "The Iron Heel of War" - Civil War Readers' Theatre
4:00 pm - Flag Retreat
Fort Scott National Historic Site, a unit of the National Park System, is open daily from 8 a.m. - 5 p.m. Entrance to the site is free of charge. Call 620-223-0310 for more information.
Did You Know?

After Fort Scott was abandoned by the army in 1853, the buildings were sold at public auction, and the fort became the town of Fort Scott. One of the officers' quarters eventually became the Goodlander Home for Children. For about fifty years, orphans and other needy children were cared for here.