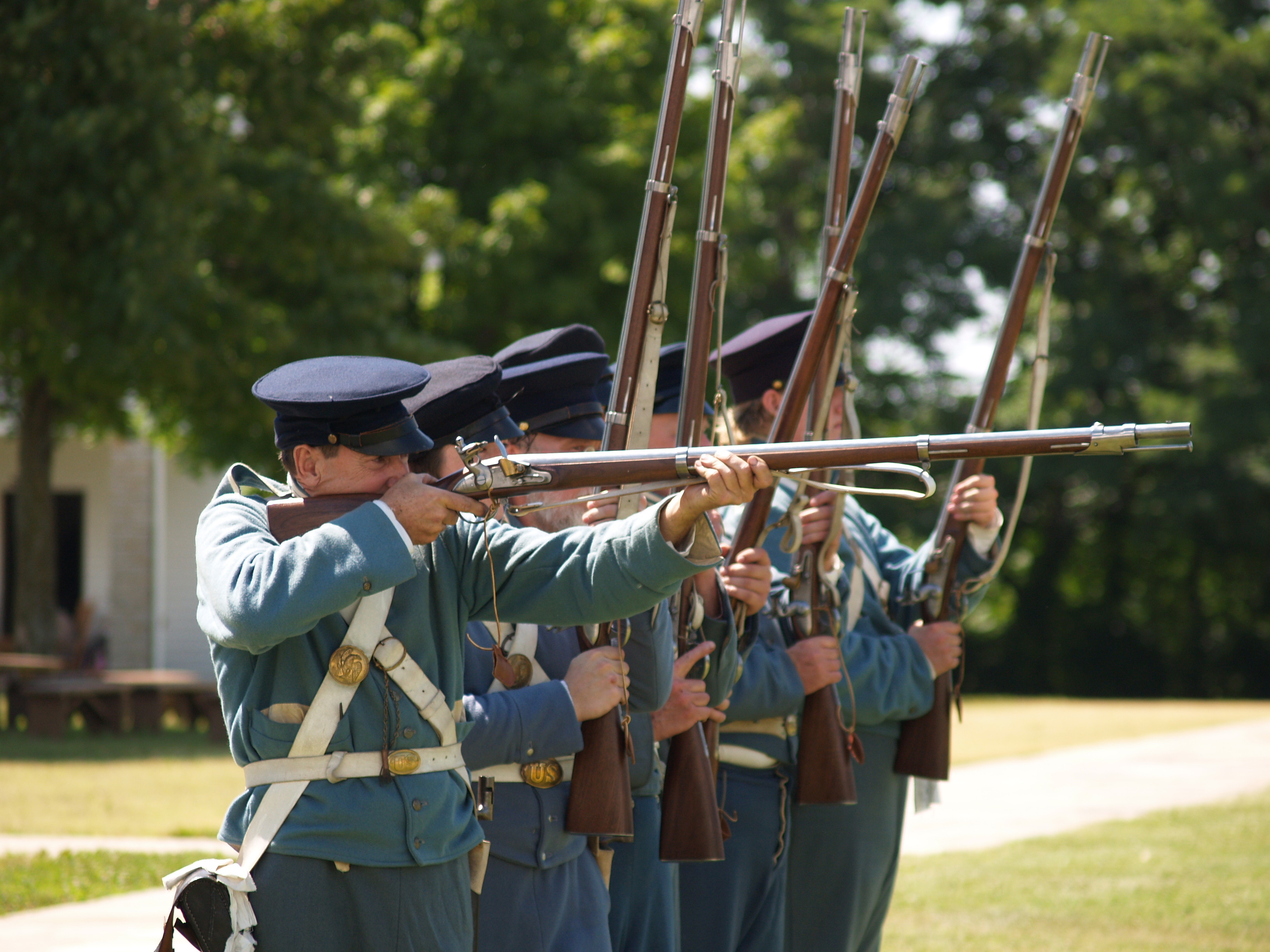 NPS Photo
Come and explore Fort Scott this Labor Day weekend.See soldiers, civilians, and ladies of the 1840s Frontier Army era hard at work. Are you feeling poorly?Visit with the post surgeon about your ailments but watch out for his leeches.Why not help the laundresses wash dirty laundry?Come see various items offered for sale to soldiers and civilians by the Post Sutler.View soldiers performing historic weapons small arms and artillery firings. Living history activities and demonstrations will be ongoing throughout the weekend.
You can travel back to yesteryear when bloodletting, baking, and booming were commonplace.Fort Scott National Historic Site, a unit of the National Park Service located in Fort Scott, Kansas, will be providing a variety of programs on Saturday, Sunday, and Monday, September 5th through 7th.Traditional living history activities and demonstrations highlighting 1840s garrison life will be the focus of Saturday's and Sunday's events.
"Highlights in History" on Monday, September 7, will feature programs that interpret Fort Scott's role in some of the most pivotal events in American history.Blood on the Prairie provides you a survivor's story of the horrific Marais des Cygnes Massacre and its aftermath.Democracy Run Wild, a program about Fort Scott in the 1850s, will focus on how the issues of "Bleeding Kansas" affected all levels of government. The smell of gunpowder will be included with Thunder Wagon:Artillery Demonstration at 11:00 a.m. and 2:00 p.m.
In addition to these programs being offered throughout the weekend, there will also be a special Labor Day "From the Crack Post of the Frontier" tour.This program will focus on the labor force, building materials, architectural styles, and construction techniques used in the building of Fort Scott.
SATURDAY, SEPTEMBER 5
10:00 a.m. –Sick Call –1840s Medicine

11:00 a.m. –Lock, Stock and Barrel: Flintlock Musket Demonstration

1:00 p.m. –Guided Tour

2:00 p.m. –Thunder Wagon: Artillery Demonstration

3:00 p.m. –Crime and Punishment –Guardhouse Talk

4:00 p.m. –Flag Retreat
SUNDAY, SEPTEMBER 6
11:00 a.m. –Lock Stock, and Barrel:Flintlock Musket Demonstration

1:00 p.m. –Guided Tour

2:00 p.m. –Thunder Wagon:Artillery Demonstration

3:00 p.m. –"Fish hooks, plug tobacco, and hard candy" –Post Sutler Talk

4:00 p.m. –Flag Retreat
MONDAY, SEPTEMBER 7
10:00 a.m. –Blood on the Prairie

11:00 a.m. –Thunder Wagon:Artillery Demonstration

1:00 p.m. –"The Crack Post of the Frontier" - Guided Tour

2:00 p.m. - Thunder Wagon:Artillery Demonstration

3:00 p.m. –Democracy Run Wild

4:00 p.m. –Flag Retreat