Exhibits Closed

Beginning Monday August 25, the infantry barracks museum will be closed for remodeling and to prepare for a new theater and exhibits. Work is expected to be completed by spring of 2015. The site's movie will be played in the visitor center upon request.
Naturalization Ceremony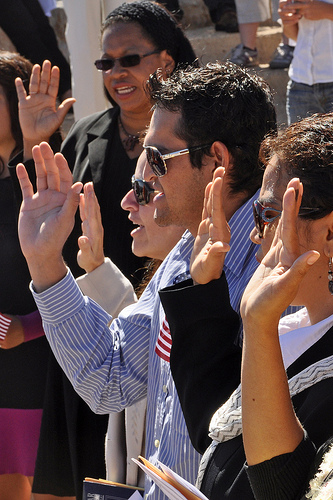 The United States District Court for the District of Kansas will hold a special naturalization ceremony at the Fort Scott National Historic Site in Fort Scott, Kansas on Friday, September 27, 2013 at 10:30 a.m. The Honorable James P. O'Hara, Magistrate Judge for the District of Kansas, will preside over the ceremony on the grounds of the Fort, which features a welcome from Fort Scott Mayor Cindy Bartelsmeyer, musical performances from the Fort Scott High School band, orchestra and choir, and an address from the Honorable Mark A. Ward, District Judge of the 6th Judicial District. Pittsburg State University Army ROTC will present of colors and lead the new citizens in the pledge of allegiance.
Approximately 90 applicants will be naturalized at the ceremony, which is open to the public. In case of rain or other inclement weather, the ceremony will be held at Fort Scott Memorial Hall.
Did You Know?

At Fort Scott, several of the boxes and barrels are marked Fort Scott, MO. Not actually in Missouri, the fort was located four miles west, in what was then unorganized territory. The army used Fort Scott, MO as a shipping address to assure that supplies made it to the right place.