Naturalization Ceremony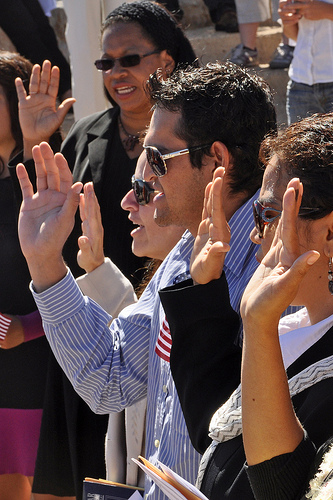 The United States District Court for the District of Kansas will hold a special naturalization ceremony at the Fort Scott National Historic Site in Fort Scott, Kansas on September 28, 2012 at 10:30 a.m. The Honorable David J. Waxse, Magistrate Judge for the District of Kansas, will preside over the ceremony, which features a welcome from Fort Scott Mayor Jim Adams, musical performances from the Fort Scott High School band, orchestra and choir, an address from Zackery Reynolds, and the presentation of colors and pledge of allegiance by the Pittsburg State University Army ROTC.
Approximately 86 applicants will be naturalized at the ceremony, which is open to the public. In case of rain or other inclement weather, the ceremony will be held at Fort Scott Memorial Hall.
Did You Know?

After Fort Scott was abandoned by the army in 1853, the buildings were sold at public auction, and the fort became the town of Fort Scott. One of the officers' quarters eventually became the Goodlander Home for Children. For about fifty years, orphans and other needy children were cared for here.