Exhibits Closed

Beginning Monday August 25, the infantry barracks museum will be closed for remodeling and to prepare for a new theater and exhibits. Work is expected to be completed by spring of 2015. The site's movie will be played in the visitor center upon request.
Plan Your Visit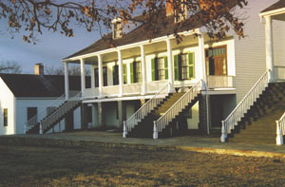 NPS Photo
Fort Scott National Historic Site consists of 20 historic structures, a parade ground and five acres of restored tallgrass prairie. It is open daily for self guided tours. You may also learn more about the site by taking our cell phone tour. Follow one of the links above for more details.


Did You Know?

Many officers at Fort Scott in the 1840s owned slaves. One particular slave, Anna, was rented to Hiero Wilson, post sutler. Born free and educated, she was kidnapped into slavery in 1820, In 1849, she regained her freedom, married, operated a hotel in Eastern Kansas, and later became a pioneer.